Take a plain picture frame and turn it into an autumn leaves frame for a fun fall craft idea from Beacon Adhesives that doubles as home decor.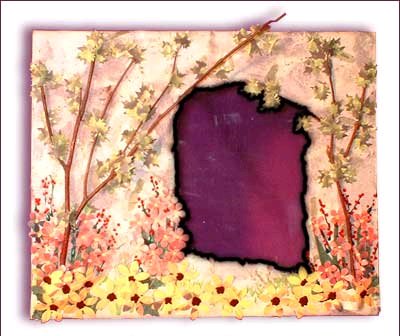 Materials:
8" x 10" lucite frame
Light tan handmade paper
Green mulberry paper
Two kinds of flower punches, large and medium
Maple leaf paper punch, small
Red, green, yellow & brown dimensional paints
liquid laminate
zip dry paper glue
Scissors
1⁄2" wide, soft craft brush
Instructions:
Tear tan paper and glue to front of frame leaving a 4" X 5" opening a little off center to right of frame. (Or experiment with a different placement.) Glue down with a few dots of ZIP DRY. Cover entire frame with LIQUID LAMINATE, following bottle directions. Let dry.

Cut small strips of green paper for leaves and grass. Glue as in photo using ZIP DRY. Add dots of red paint here and there and let dry.

Punch out small flowers from pink flower photo paper and glue in branches over leaves. Add dots of yellow paint to centers. Add lines of light green paint for grass randomly around base of flowers.

Glue twigs to side of frame, extending over opening. Let completely dry before moving.

Punch out large flower from yellow photo paper and glue onto base of "trees" and frame and then add brown paint to the center of each flower.

Punch out maple shape leaves and glue to branches and paper.
Your Recently Viewed Projects