Altered Book Tips and Inspiration
An altered book is a book that artists "alter" or change using various art and craft techniques to create an object of art.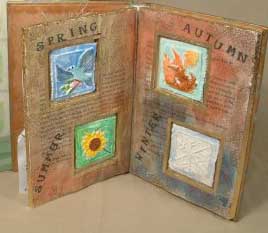 Find books for altering at library sales, thrift shops, garage sales, flea markets, and from family and friends. At first it might be tough to "damage" a good book, but remember you are creating art.
Your altered book might focus on a subject, theme, or be a random act of creativity. The book can remain close-able or create it as an open book (like a centerpiece).
Simply add your own page(s) to a book. Cover a page of the book with white paper and start creating.
Rip and tear pages, then add your own touch. A craft knife with sharp blade is best if cutting windows or removing several pages of the book at one time.
Paint or ink page(s). Brush, sponge, dab on paint. Smear, blot, or tap on ink.
Cut out a shelf or hole in the book. Cut out and then adhere pages together to create the shelf or hole.
Punch some pages. Ink or paint a frame around punched shapes or place contrasting color of paper to highlight the punched shape.
Use fun embellishments to decorate or collage: buttons, fabric, lace, game pieces, puzzle pieces, metal,
Use mulberry paper, handmade paper, photos, magazine pictures, tissue paper, photocopied memorabilia, vellum, wall paper scraps, and decorative papers.
Add to the book's front/cover. Paint it. Collage it. Drill a hole and add a dangling charm or grouping of ribbon.
Add stickers, ribbon, rubberstamped images, coins, beads, glitter, or glass slide.
Antique it with metallic rub, paint wash, sanding, denting, tea staining, or water marks.
Write, doodle, and draw on pages. Use watercolor and colored pencils, fountain ink, markers, and calligraphy pens.
Your Recently Viewed Projects