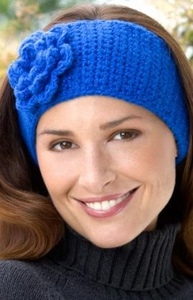 Keep your ears warm this winter with a Pretty Petals Ear Warmer. This crochet ear warmer free pattern comes with a feminine flower embellishment to crochet as well. This is a fun pattern that's great for beginners or anyone who is knew to the world of free crochet headband patterns. While this is a great pattern to work on in the winter, but you can also work on it in the summer so you have a brand new headband to wear when the weather gets cold. Best of all, the buttons on the headband makes it completely adjustable. All you need is one skein of yarn for this pattern, so there's no excuse not to start right this second.

Materials:
RED HEART® "Shimmer™": 1 Ball 1810 Royal.
Crochet Hook: 4mm [US G-6] and 5mm [US H-8].
One ¾" button, yarn needle.
Headband is 22" long.

Gauge: 16 sc = 4"; 17 rows = 4" with larger hook. CHECK YOUR GAUGE. Use any size hook to obtain the gauge.
Special Abbreviations:
sc2tog = [draw up a loop in next st] twice, yarn over and draw through all 3 loops on hook.
NOTE: Headband has 2 buttonholes to adjust the fit.

---
Free crochet ear warmer patterns are great, but they're not the only fun winter accessories to make. Download a copy of 16 Free Crochet Hat Patterns, Scarves, & Gloves and discover new and fun ways to get crafty. You'll never be left in the cold when you have these free crochet patterns at your disposal.
---
Instructions:
HEADBAND
With larger hook, ch 6.
Row 1: Sc in 2nd ch from hook and each ch across; turn – 5 sts.
Rows 2-8: Work even.
Row 9-Inc: Ch 1, 2 sc in 1st st, sc across to last st, 2 sc in last st; turn – 7 sts.
Rows 10-33: Repeat Rows 2-9 three times – 13 sts.
Rows 34-52: Work even.
Row 53-Dec: Ch 1, sc2tog, sc across to last 2 sts, sc2tog; turn – 11 sts.
Rows 54-60: Work even.
Rows 61-84: Repeat Rows 53-60 three times – 5 sts.
Rows 85-92: Work even.
Try on Headband. Ends should barely meet at back of neck when slightly stretched; add or remove rows until Headband fits. Work 1 row even.
Next Row-Buttonhole: Ch 1, sc in first 2 sts, ch 1, skip next st, sc in next 2 sts; turn. Work 3 rows even.
Next Row: Repeat Buttonhole row. Work 2 rows even.
Finishing
Ch 1, sc evenly around edge of Headband; join to first st.
Fasten off.
Flower
With smaller hook, ch 5; join with a slip st to form ring.
Round 1: Ch 5 (counts as dc and ch-2), [dc, ch 2] 5 times in ring; join to 3rd ch.
Round 2: Ch 1, (sc, hdc, dc, tr, dc, hdc, sc) in each ch-2 space around – 6 petals.
Round 3: Holding Round 2 forward, * sc in dc from Round 1, ch 3; repeat from * around; join.
Round 4: Ch 1, (sc, hdc, dc, 3 tr, dc, hdc, sc) in each ch-3 space around – 6 petals.
Round 5: Holding Round 4 forward, * sc in sc from Round 3, ch 4; repeat from * around; join.
Round 6: Ch 1, (sc, hdc, dc, 5 tr, dc, hdc, sc) in each ch-4 space around – 6 petals. Fasten off.
FINISHING
Sew Flower to wide portion of Headband. Sew button to end opposite buttonholes. Weave in ends.
---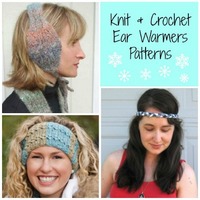 If you like free crochet ear warmer patterns, then you'll love this collection of crochet and knitting patterns. Before with arrives, start working on the patterns featured in 17 Knit & Crochet Ear Warmer Patterns. You'll love the loook of these quick and easy projects and will want to make one for everybody you know.
---
Your Recently Viewed Projects