Crochet Flower Statement Necklace
This Crochet Flower Statement Necklace is the perfect addition to almost any outfit. These easy and fun crochet flowers can be arranged however you'd like, and this necklace is sure to spark some conversation when you wear it and show it off! This statement necklace is a pretty way to add some casual structure to just about any outfit.
Crochet a handful of little flowers in the color of your choice to make your outfit pop. The picture showcases this free crochet pattern created in a variety of colors, but you could easily make this project subtle and simple by using just one or two muted shades.
---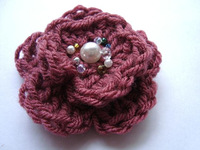 For more beautiful handmade flower projects, check out our collection of 81+ Printable Flower Patterns.
---
How to Crochet a Flower Necklace
Materials:
DMC floss (I used white, bright blue, light green, green, pink, hot pink, yellow, orange, and purple)
Pearl beads
A chain
A clasp
Scissors
Jewelry pliers
Sewing needle (small enough to thread the beads)
Small crochet hook (I used US C2/2.75 mm)
Mod Podge (optional)

Abbreviations:
ch = chain
sl st = slip stitch
st = stitch
sc = single crochet
dc = double crochet
tr = triple crochet

Instructions:
Use the entire set of 6 strands of your first color.

Round 1 - Ch 4, sl st into 1st ch to form a ring. Round 2 - Ch 1, work 9 sc into circle. Sl st to ch 1. Round 3 - *ch 3, dc in next sc, tc in same sc, dc in same sc. Ch 3, sl in next sc*. Repeat sequence between *s until 5 petals are made with last ch 3 ending with a sl st into last sc.

Finish off.

Tie the ends together neatly on the back of the flower and weave in the ends.

Using 2 or 3 strands of matching thread, sew the pearl bead into the center of the flower.

These flowers were the perfect size for my necklace. Play around with different hook sizes and numbers of petals for your own creations. You will need 2 sc in round 2 for each petal you wish to have on your flower. Adjust the round 1 ring as needed.

To stiffen the flowers, immerse them one at a time into a 1/2 water 1/2 mod podge solution and allow to dry on a piece of plastic wrap. I held each flower by the pearl while dipping them in the solution so the pearl would not be coated. I also used a paper towel to absorb the excess solution. I allowed them to dry overnight.

Next create the length of chain you want for the necklace and attach the clasp.

Lay out your flowers along the chain in your desired pattern, making sure each flower is either on the chain or touching another flower. Sew the flowers to the chain or adjacent flower with 2 or 3 matching threads.

Here, you can see mine pinned from the back (although, not this was not my finished placement).


Your Recently Viewed Projects