Molded Paper Art
Learn how to create your own paper and use it to create an amazing piece you can display anywhere. All you need is a simple recipe and a clay mold to created Molded Paper Art from Candace Jedrowicz. The process is so cool, you'll never want to buy paper again.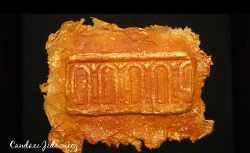 Materials For Paper:
Paper towels
Construction paper – colors of choice
Paper shreds – colors of your choice
Blender with lid (this should be a mixer that you use only for paper making/crafting. Do not use your good kitchen mixer.)
Water
Wooden or plastic spoon (to mix)
Plastic tub with water
Paper deckle (or create your own with wood frame and metal or plastic window screen)
Towels (You will need several old towels to place on worksurface to use while paper is drying. You can also use layers of chamois.)
Sponge
Optional: Iron, glitter or other embellishments to add to paper mixture
Materials For Art:
Paint brush
Copper flecks for paper making
Earthenware or plaster mold
Alcohol ink
Metallic paste – I used gold and copper
Instructions For Paper:
Tear apart paper towel plies.

Rip into smaller pieces and put into blender filled half way with water. Do not overfill. It is better to make several small batches.

Tear construction paper into small pieces and add to blender.

Add paper shreds to blender.

Mix to moisten paper. Let sit in water for about 30 minutes.

Turn on blender and mix for 30 – 60 seconds.

Check to see if mixture is desired consistency and color. If desired, turn on blender again until mixture reaches your desired consistency.

Fill tub half way with clear water. Pour mixture into tub.

Stir mixture.

If desired, cut more shreds into mixture.

I created my deckle from a wooden frame and window screen. I just cut my screen to fit over the frame and I stapled it in place around the outside edge.

Insert end of frame into tub and carefully submerge it underneath the mixture.

Carefully lift up the frame so that it catches the paper mixture. Gently shake excess water into tub.

Place several layers of towels onto protected work surface. Place frame face down onto towels.

Use sponge to wick up excess water. Squeeze water from sponge and continue until paper easily releases when frame is lifted.
Instructions for Art:
Gently pick the paper up and lay it in the mold, pushing lightly with a paint brush to get into all the depressions in the mold.

The paper will be fairly thin, so dip into the paper pulp in the pan and add another layer to the mold.

Allow to dry overnight.

Remove the paper from the mold.

Spritz with alcohol ink until you get the look you want. Allow to dry.

Add accents with metallic paste.
Your Recently Viewed Projects
Join our community of 5 million crafters!
Get free craft projects, exclusive partner offers, and more.
Thank You for Signing Up!
There was an issue signing you up. Please check your email address, and try again.