Handmade Springtime Shelf
Celebrate the season with this easy and fun art project that's great for kids. The Handmade Springtime Shelf from Cheryl Ball for I Love to Create is the perfect handmade, homemade craft or gift idea. What a great way for parents and kids to craft together!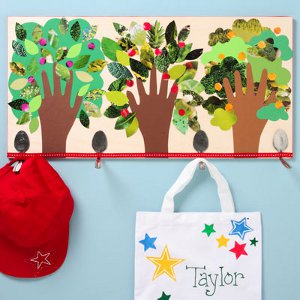 Materials:
Ribbon – 3/8" red – 3 yards – or desired color
Scissors
Hammer
Pencil
Spoons (4)
Wood plank – desired size
Nail
Magazines
Cardstock paper – assorted greens, browns
Low-tack masking tape
Sand paper – fine grit
Pictures hangers (2)
Instructions:

Sand board smooth on front and sides.

Use pencil to lightly trace around hands (including wrists) onto brown cardstock then cut out.

Trace tree patterns onto assorted green cardstock and cut out.

Find and tear out green colored sections from magazines. Use pencil to trace patterns, if needed, onto colored sections then cut out, tracing and cutting desired number.

For gluing, add a thin bead of Aleene's® Acid-Free Tacky Glue™ onto back along edge then place and press to secure. Glue large green tree sections in place first then glue hands, adding leaves last as shown.
To create berries, tear out colored ads then cut small rounds and glue in place.

Use hammer to pound crater of spoon flat – place on concrete or something hard for this. Place spoon over table then bend handle to 90-degree angle.

Determine placement of spoons, with handle sticking out, then make a light pencil mark on board on both sides of spoon. Use a nail to make small holes between pencil marks. Add a thin layer of Liquid Fusion™ to back of spoon then press in place on board. Hold in place with masking tape until dry.

Cut ribbon to fit across lower edge of board and around sides. Apply a thin bead of Acid-Free Glue to back of ribbon then press in place as shown. Glue ribbon around edge of board. Let dry.

Add two picture hangers to back of board toward ends following package instructions.
Your Recently Viewed Projects