Cardboard Tube Party Favor Pouches
Don't let your guests leave your next party empty-handed. Instead, create your own Cardboard Tube Party Favor Pouches from Candace Jedrowicz out of recycled materials. This cute and colorful idea is the perfect way to show your friends how much you care.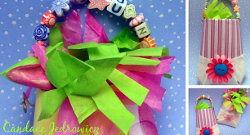 Materials:
Cardboard tube
Scissors
Decorative paper
Tissue paper
Dry baby/wet wipe or paper towel
Aleene's Tacky Dots
Aleene's Tacky Double Stick Sheets
20 gauge wire
Assorted beads
Wire cutters
Chain nose pliers
Round nose pliers
Hole punch – small (or awl)
Instructions:
Cut a 5″ section of cardboard tube. Cut decorative paper to go all the way around the tube + 1″. Fold 1″ over, wrap the tube with the 1″ of paper inside. This will be the top. Secure the paper with double sided tape.



Push the bottom of the tube closed.



Cut both sides of the bottom up 1″.



Fold all 4 corners to the inside. Close and secure with a Tacky Dot.



Fold the dry baby wipe or paper towel to fit the tube like a diaper. I had to fold over an inch length wise to make mine the right size. Fold down corners to make a narrow flat point to the front.



Wrap the back corners to the front side and secure with a Tacky Dot. Before pulling the front up, tuck the extra material under the bottom point of the tube.



Pull the front up and secure with Tacky Dot.



Punch holes on both sides of the top. Cut a 6″ piece of wire.Wrap a spiral on one end of the wire.Thread the other end through one hole from the outside to the inside.



Load the wire with beads. Push the straight end of the wire out the other hole and wrap a spiral.Add tissue paper to the inside. Embellish!




For a comprehensive video tutorial of this project, check out Cardboard Tube Party Favor Pouches.
Your Recently Viewed Projects