If you learn how to make an Eight Point Star you can make tons of projects with them. Follow the easy craft instructions from Nuts About Needlepoint and patterns and you will be able to make colorful and attractive needlepoint projects in no time.
Under each pattern you will find instructions for how to make that star.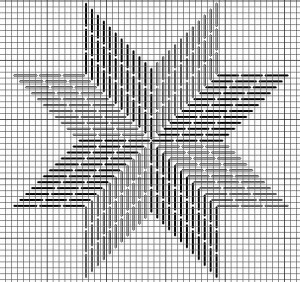 Simple Eight Point Star:

The chart, pictured above, is really simple. To make this variation, one color is the solid lines. The other color is the open lines. By stitching them in two threads, you get a good feel for how they both behave.



Connecticut Star:
Connecticut Star has narrower points with a fun checked border. It's a classic in red, white-and blue, but this could be fun in all kinds of combos. Why not use paint chip suggestions as a start?

National Star:
National Star is another eight-point star variation. In this the points are checked but and the border is solid. I'm thinking about doing one inspired by the Maryland Flag, making both points and border checked.

Baby Star:
Baby Star is a tiny version of the star, encased in a straight stitch border. Since it's less than 30 stitches square this would be dainty even on larger mesh canvas.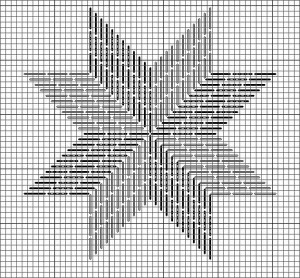 Star of LeMoyne:
Star of LeMoyne was the first eight-pointed star I stitched, back in 1979. The larger points are checked, while the smaller points are solid. It's the one I use to test color combinations.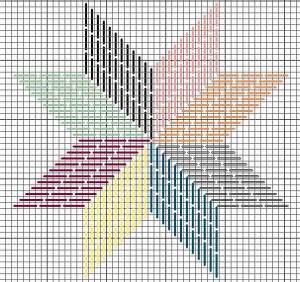 Scrappy Eight Point Star:
The final pattern is a scrappy version of the star. In this one every point is done in a different thread or color. The chart is done in color so you can get a better idea of how scrappy it is.
Your Recently Viewed Projects