Dollar Store Flower Necklace
Use this bib necklace tutorial from Emi Harrington to make a trendy flower necklace with materials from a dollar store. This dollar store craft shows you how to turn inexpensive faux flowers into a pretty necklace.
While this project is made entirely out of budget materials, it will be hard for anyone else to know that this project was crazy cheap to make. The best crafts make cheap makes look like a million dollars, and this is one of those dollar store crafts that does just that. This DIY necklace is as hip as it is easy to make. The mixed media combo of a faux flower and fancy pearls really achieve an eclectic flair that will easily update and upgrade and outfit.
Materials:
Pearl choker
½ inch ribbon
Dollar store flower from a bouquet
Hot glue gun and glue sticks
Beads (6 or 7 pearls, and about 40 small beads) OR any buttons or beads of your choice.
---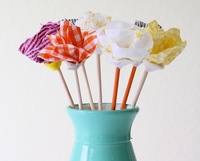 For more beautiful handmade flower projects and how to sew a flower tutorials, check out our collection of 81+ Printable Flower Patterns.
---
Instructions:
Cut ribbon into 2 lengths of 24 inches each.

Close the choker clasp, and position it on one side. (In this way it will be covered by the flower.)

Fold one strip of ribbon in half, pass the folded end around the choker, and pass the ends of the ribbon through the fold. Pull up to attach the ribbon to the choker. Repeat with the other strip of ribbon on the opposite side of the choker. (Note: fold the choker so that one strand hangs below the other, refer to the photo.)

Prepare the flower:
Fold the flower in half, and grasp in your non-dominant hand. Remove the bottom base of the flower. Cut the stem that protrudes off with scissors. Apply hot glue into the center of the remaining stem, and all around on the bottom layer of the flower petal. When the glue has cooled, open the layers, and apply a dot of glue between each layer so the flower won't fall apart.

Hot glue a pearl in the center of the flower, then hot glue a circle of pearls around the center pearl. Apply hot glue between the pearls, and drop small beads into the hot glue.

Hot glue a brooch pin on the back of the flower. Pin the flower on one side of the necklace. Tie the ribbons around the neck.
Your Recently Viewed Projects