Homeschool Room Ideas
On the hunt for homeschool organization ideas for small spaces? This workstation DIY is for you!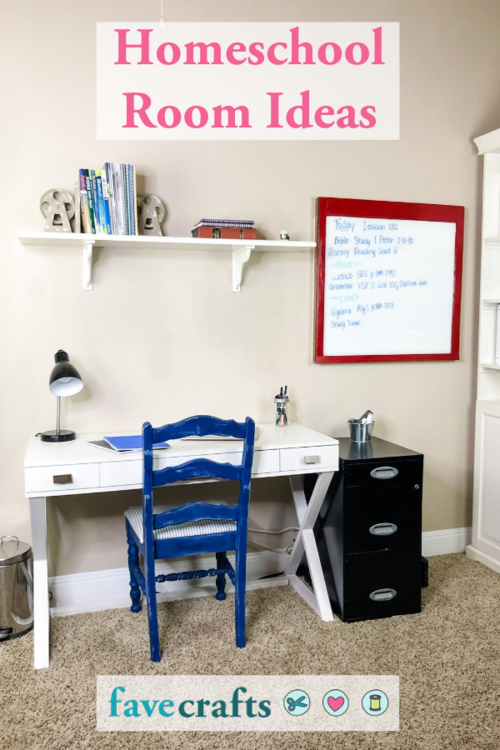 Looking for homeschool room ideas?  If so, you are in the right place.  Our daughter has been homeschooled for over four years and we have found solutions that work for us that I am excited to share.

Let's talk about what didn't work first, and why it didn't work.  At our house, we have an office space and we put her in there.  She was eight at the time and excited for homeschool. We thought that having her there with us stopping by and looking in was going to be sufficient.  We found that she was actually pretty lonely, even though I worked from home her dad was there most days. 

When she started feeling lonely she lost her focus and started looking for ways to entertain herself.  I think that's something that is missed with different homeschool experiences, is the entertainment.  There is no one in the class that is cracking jokes, no changing classrooms, etc.

It was also always a mess!  There was too much room, we had a big desk, a couple of chairs, window looking out front, and a fish tank.

So when we were working on changes, the space and schedule had to change. 
These were the homeschool room ideas we had:
Must not have distractions
Parents need to be able to see the computer screen and work area when walking by
Be in a common area, not in an office or bedroom
Breaks needed to be more frequent and have a purpose
Clutter free and easy to maintain
Space to clearly display the objectives for the day
Those were our must-haves for the space.
While it wasn't ideal to take down parts of our game room and set it up for classwork, that was the space we found worked best to meet the objectives above.
For organization, we knew we needed the following things:
A desk with great lighting
A place dedicated to just her school books
A place for teacher materials separate from her space
A place for other school supplies
A place to write the agenda for the day
A place to store completed paperwork and graded paperwork
A place with great internet
If you are thinking, that you don't have a lot of space, this also works for small spaces.  We took one corner of a room to do this in. 
To meet the room requirements, we started first with the desk.  It's a simple desk, low profile, and affordable.  This area doesn't have great light, so we added a desk lamp.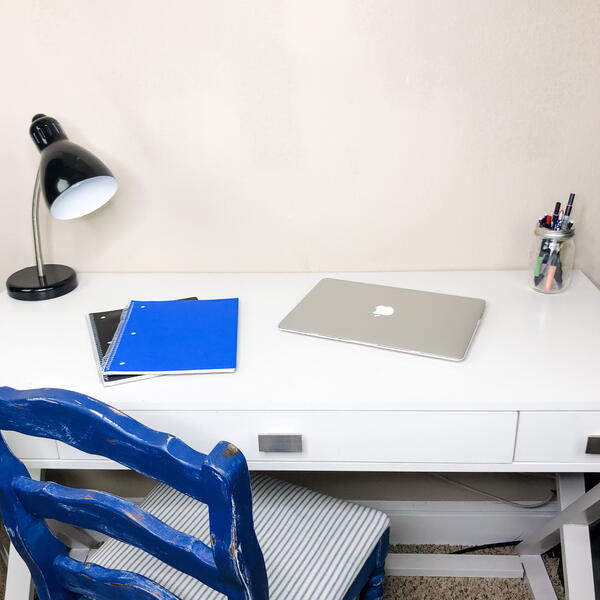 A shelf above it holds all of her textbooks that she can reach on her own.  There aren't any Harry Potter books or anything else, just strictly her school books.  Going with a larger shelf than she actually needed made it easier to keep clean.  The books either stand up or stack up.  She chose which went where.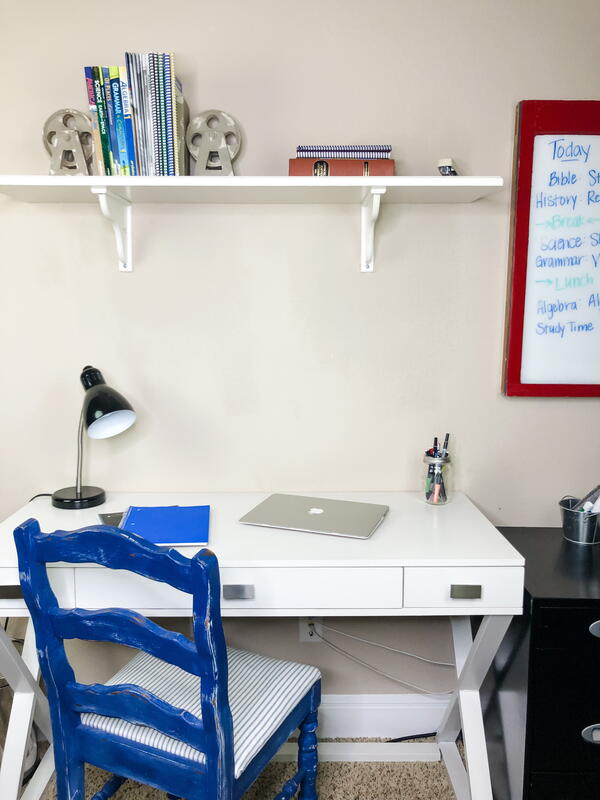 Then we have an old window that she helped turn into a white board.  By painting the back of the window white, we were able to clearly read what was written on the window with dry erase markers.  She chose bright red for the front color.  While it wasn't my first choice for the space, it was the look she was excited about, so that's what we went with.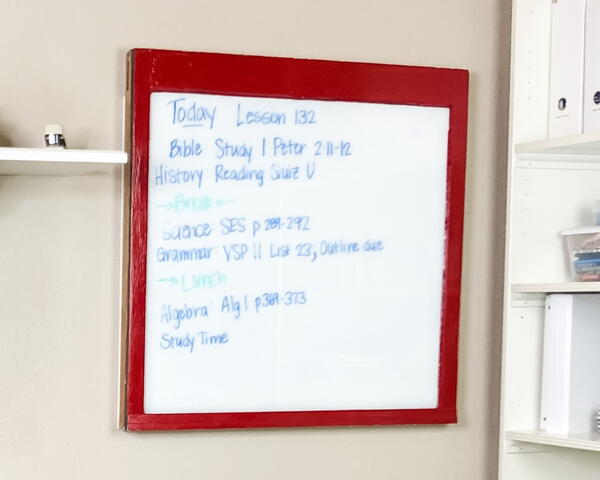 Under that, we have a filing cabinet that has folder for each subject.  The top drawer is for her current 9 weeks and the bottom for completed 9 weeks.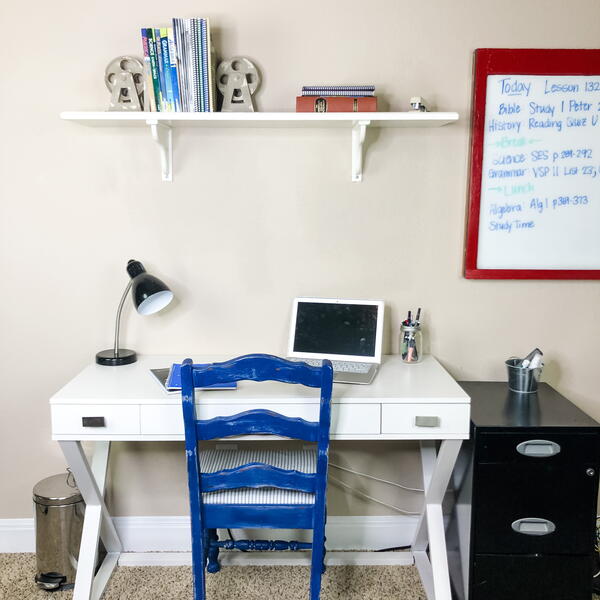 Then we have the other storage for our materials and other school supplies on a bookshelf. We found that markers, crayons, and colored pencils actually are a distraction.  So by keeping them off the desk space and in a separate place, she was able to focus more.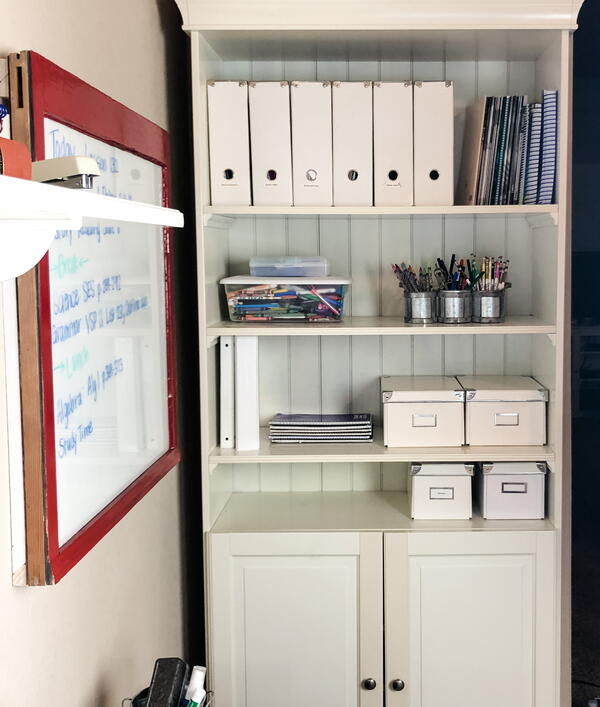 We keep the teacher's manuals on these shelves, not any tests or test keys. Know your child though and know where you need to keep all items.

In less than 25 square feet, we have our homeschool area. There aren't extra pictures, motivational posters, it's tidy and only has what it needs.

The best part of keeping all the extras out of the space is how easy it is to keep clean. This is in a common area of our home and we don't want to see a mess every day.

We tried several places in our home and we found this is what truly works best for us. We can glance over and see what she's doing without her knowing we are doing it. We take breaks together, and each have a purpose - like taking a walk, watching some funny and short YouTube videos, preparing lunch together. She doesn't feel alone, but doesn't feel under a microscope. It's a clean and organized space, and when she isn't at school, the chair stays pushed in, desk light off, dry erase board blank, all so she doesn't feel like she is always at school.

I hope these homeschool room ideas help you. We kept it simple on the design so that it's easy to maintain and easy to shut down at the end of the day. She enjoys checking off each subject on the board as she goes, and we enjoy an organized space - both while homeschooling.
Your Recently Viewed Projects
Join our community of 5 million crafters!
Get free craft projects, exclusive partner offers, and more.
Thank You for Signing Up!
There was an issue signing you up. Please check your email address, and try again.