4th of July Crafts for Kids
The 4th of July is a great time to do some fun summer crafts with your kids. There are so many great projects that you can incorporate the American flag design into, and you can use the holiday to teach your kids at the same time! Take the opportunity to give them a quick lesson on why we celebrate our nation's independence. Keep them informed about the President and our government with this great collection of patriotic crafts chosen by the Editors of FaveCrafts.com. For great summer crafts for kids, including scout troop and camp crafts, check out our free Summer Crafts for Kids eBook.

Table of Contents

Top 4th of July Crafts for Kids
Our Favorite Easy 4th of July Craft
American Flag Trivia for Kids
Preschool 4th of July Crafts


Top 4th of July Crafts for Kids

1. All American Tin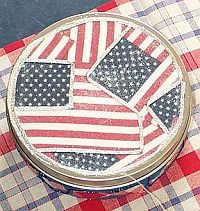 Make this festive tin to hold tiny treasures in a country home, in your purse, at camp, or on a trip.
2. Star Bangled Bracelet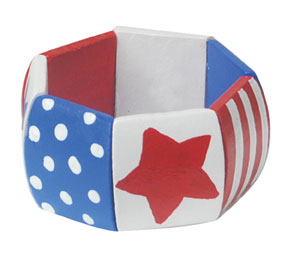 Here's a patriotic project for you: a wooden bracelet all decked out in shining paint colors of the American flag.
3. Stars and Stripes Game Box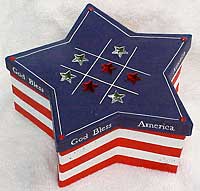 This great Stars and Stripes Game Box is not only fun to play with -- it's fun and easy to make!
Our Favorite Easy 4th of July Craft: Patriotic American Flag Pin

By Cindy Mintz
This patriotic American flag project is the perfect craft for kids and adults. It's easy, inexpensive, and a great way to show off your national pride. You and the kids can do it together and have the opportunity to discuss national events or simply enjoy each other's company.
Materials
1 large safety pin (1-1/2 inches)
13 standard-size safety pins (1 inch)
Red (44), white (38), and blue (35) beads
Directions
Assemble seven standard-size safety pins by sliding five blue beads and then a white bead, then a red, then white, then red onto the open pin. Be careful not to stick yourself. Assemble six standard-size pins by sliding beads on in this order: red, white, red, white, red, white, red, white, red for a total of nine beads on each of the six pins. You'll begin and end with red. Assemble the final pin by sliding the red, white, and blue pins onto the large safety pin. Then slide on the remaining six red and white pins. To ensure that your beaded pins will not fall off of the big pin, spring the hinge on the big pin and slide the beaded pins around and place them on the other side of the hinge. It's almost like sliding a key onto a key chain. Wear your American flag pin proudly.
These fun flag facts are great for preschoolers and elementary school kids. Make learning fun and quiz them in a game format.

Q: What does the American flag look like?
A: The American flag has stars and stripes. The stripes are red and white, the stars are white and the background of the stars is blue.


Q: How many stripes are on the American flag? How many starts are on the American flag? What do they each represent?
A: The American flag has 13 stripes, which represent the original 13 colonies. The flag has 50 stars, which represent the 50 states.


Q: What do the colors of the American flag stand for?
A: Red symbolizes hardiness and valor. White represents purity and innocence. Blue represents vigilance, perserverance and justice.
Try one of these preschool July 4th crafts that can be done at home. These projects are so easy and kids will love making them!

Patriotic Plate Decoration
1. Glue or staple two paper plates facing each other. Before glue dries, attach a piece of string to the top of the plates so that you can hang them. Do the same with red, white and blue garland (look for it at craft stores) on the bottom of the two plates.
2. Let kids decorate the plates with red and blue markers, glitter, paint or any other materials you may have. Use markers or letter stickers to write a festive holiday message on the decoration.
3. When completed, hang on a door or outside on a tree for a fun picnic or BBQ party decoration.

Festive Salt Dough
Mix up some salt dough with your kids. Add blue and red food colorings to create patriotic shapes and figures.
Click here for more great kids crafting ideas.
Your Recently Viewed Projects