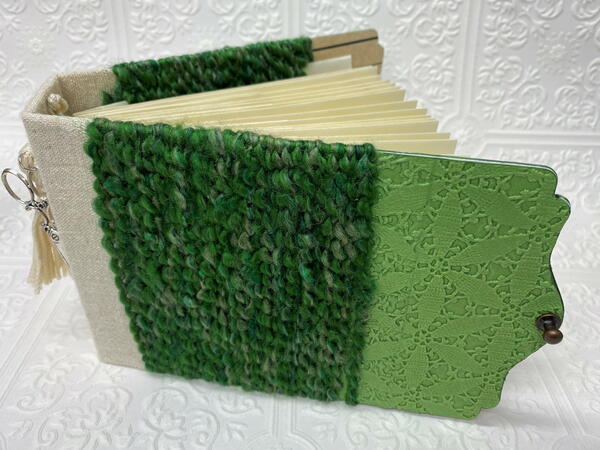 Fiber Minder Journal
From the Designer: "Keep track of all your fibers in this fun journal created using yarn, a Sizzix die, matboard, and some #10 envelopes! This Fiber Minder Journal organizes all of your yarn in one spot. Wrap a small yarn sample around the wrapper and tuck it in the envelope pages. On the envelope indicate where and when you purchased the yarn, what project you created with it, dye lots, needle gauge and other useful information."
Materials List
Lion Brand Homespun yarn
Lion Brand 24/7 Cotton yarn
Die cut machine
666475 Field Notes and Specimen Card die
Matboard- 2 sheets 6" x 12"
666154 Tablecloth 3D Embossing Folder
#10 envelopes (15)
Green paper- 2 pieces 6" x 8"
Strip of muslin 4" x 10 1/2"
Glue
Hitch fastener
Elastic scrap
Instructions
Journal
Die Cut 2 pieces of matboard to create the journal covers.

Emboss two pieces of green paper in the 3D folder- then die cut them from the journal covers and adhere to ends of journal covers.

Rotate one journal cover so spines align and glue together with strong adhesive.

Wrap muslin around spine and glue in place with fabric ends inside the book spine. 

Wrap yarn around the book covers and glue ends in place.
Journal Insert
Seal envelopes. Cut a sliver off the ends of each envelope.

Score and fold over at 3 1/4". 

OPTIONAL- Punch a thumb notch (small divot) using 1" hole punch on the long ends of the envelopes if desired. Add sewing pattern paper to the inside book cover if desired.

Glue the short side of the envelope to the long sides of the envelope behind it and repeat so you have a stack of envelopes glued together. 

Tuck the last envelope through the back cover using the yarn to hold it in. Glue envelope down to back of cover. 

Add a hitch fastener closure on the center edge of the book. Punch a matching hole on the back cover. Thread elastic through the hole and add a charm. Slip elastic around the hitch fastener to close the book.

Add a charm and tassel to the binding of the journal to finish it off! 
Your Recently Viewed Projects