"Creative Ideas for the Holiday Home" eBook
Creative Ideas for the Holiday Home
Table of Contents
Add your personal touch to Thanksgiving, Halloween and Christmas celebrations with this holiday craft eBook from Creative Home Arts Club. Find 20 unique craft projects, including the Autumn Leaves Wreath and the Christmas Tray Chic.
When you download this free eBook, Creative Ideas for the Holiday Home, you're guaranteeing that this holiday season is the craft-happiest yet. The holidays are the most amazing time to craft. There's the natural beauty of the changing leaves, the falling snow, and the beautiful sunsets that autumn and winter cast upon the sky. There are the delicious smells of warm, toasted pumpkin seeds, juicy turkey, and freshly baked christmas cookies. Finally there are the classic characters that reappear every season – ghosts, goblins, the pilgrims, the indians, Rudolph, and Santa. It's a time of utter crafting inspiration. The first two crafts you'll find are the Witch Boot Pillow on page 6 and the Eyeball Wreath on page 9. These Halloween tutorials will get you super excited for the creepy, crawly spookiness of Halloween. Under the Thanksgiving category, you'll find the beautiful Metallic Leaves Wreath on page 18. This wreath is the essence of elegance. It shimmers in the sunlight and glimmers in the moonlight. Hang this on your front door and invite the warmth and cheer of Thanksgiving into your home. Finally in the Christmas category you'll find the Woodland Santa on page 31. This little old man looks like you bought him at a store. He's extra special as he spreads a feeling of wisdom and magic throughout your home. Don't hesitate- the crafts are waiting for you! Download this free eBook now and get going.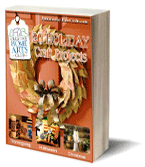 Download Creative Ideas for the Holiday Home for free today!
Ghosts, goblins, gremlins oh my! Halloween is a holiday that gives us endless opportunities to craft. There are so many characters and creatures that are fun to create and recreate with our crafting projects. On page 6 you'll find the simple and adorable Witch Boot Pillow. Thanks to the movie The Wizard of Oz, there's nothing creepier than the image of just a witch's boots. This is an easy sewing craft that adds so much Halloween spirit to any room. Place it on your couch for guests to admire or place it on your bed and hope for magical Halloween dreams. Tall witches with long hair and nails, sparkly princess dresses, and magic potions – Halloween can be a very elegant, glamorous holiday. Go a little glam with these Gilded Pumpkins on page 15. The sparkles will make any room glimmer and shine. What's the wait? Download this free eBook today!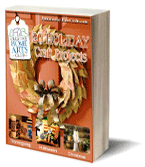 Download Creative Ideas for the Holiday Home for free today!