Father's Day Fishing T Shirt
This great T shirt for dad from I Love to Create is the perfect kids craft for fathers day! Easy and fun, your child will have a great time being creative and expressing love for the father in his life. Making crafts is a great way to nurture creativity and save money too!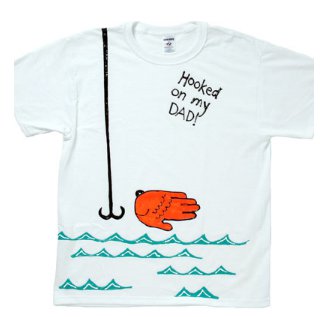 Materials:
Tulip® Surface Cover™
Tulip® Fashion Form™
Tulip® 3D Fashion Paint™


65038 Black
65000 White
65140 Deep Turquoise

Tulip® Soft Fabric Paint™
Men's T-shirt (white)
Paper towels
Paper plate
Foam brush
Steps:
Cover your work surface with Tulip® Surface Cover™. Lay t-shirt shirt on prepared surface and insert Fashion Form™ between layers of shirt.

Pour Mandarin Orange Tulip® Soft Fabric Paint™ onto a paper plate. With parental supervision, use the foam brush to paint left hand with Mandarin Orange. Keep fingers together and press hand down onto shirt as seen in picture. Let dry and clean hand thoroughly.

To create a fish from the handprint, outline with Black Slick Tulip® 3D Fashion Paint™, making sure to outline each individual finger as well. Draw in a curve for the smile at the end of palm as seen in picture, then draw a half circle at the top edge of palm and fill in for eye. Create a few wavy lines inside fish for scales. Refer to picture if unsure, or be creative. Let dry.

Use Black to draw a thick, straight line from the top left side of shirt down to where it sits in front of the fish. Draw two curves extending out from line for hook. Refer to picture. Let dry.

Use Deep Turquoise to draw and fill in several rows of waves underneath the fish and hook. Let dry, then use White Slick paint to draw in "whitecaps" in between each wave. Refer to photo. Let dry completely.

Wait 72 hours to wash. Turn inside out and machine wash warm on gentle cycle. Do not use harsh detergents or bleach. Remove promptly and line dry. To iron, turn garment inside out, being careful not to touch design with iron. Do not ever dry clean.
Your Recently Viewed Projects