Spend your afternoon making fun clay projects for kids. Create Your Own Creature is a project from AMACO that will let your children's imaginations run free as they shape mysterious critters from Cloud clay.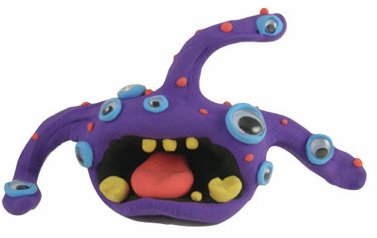 Materials:
AMACO Cloud Clay (your choice of colors)
Wiggly Eyes
Modeling Tool (optional)

Instructions:
Prepare the clay: Stretch the Cloud Clay™ by pulling it over and over again. It stretches more and will become very pliable. This makes for a limber critter. If you wish to mix colors, now is the time to do so.



Make the basic shape: Roll the Cloud Clay™ into a basic creature shape. This creature is basically round so a ball is the starting point. If your creature is tall and skinny, roll a snake and if it is shaped like a pentagon, make a pentagon shape to start.



Add its features: From this basic shape, push, stretch and pull basic features such as mouths, tentacles, legs – whatever your creature desires.



Add the details: Give your creature its basic details. Mouth(s), eye(s), arms/tentacles, etc., -because a creature can never have too many (or too few) of anything.



Embellish! Final touches give these creatures their winning personalities. Freckles, warts, cracked teeth - do whatever seems best for your unique creation. Pinch off little bits of clay or use scissors to fringe the clay. Fresh Cloud Clay™ sticks to dry Cloud Clay™; so if you think of something to add later, it's easy to do. If your creature requires a special position to show its best side, prop it in that position until it's dry – Cloud Clay™ holds its shape when dry.



How to mix colors:To mix Cloud Clay™ colors, take the colors and mash them together. Pull the clay like taffy, stretching and folding until the color is mixed.
Your Recently Viewed Projects