Create Rubbing Plates can be a fun activity for the whole family. With just a few simple supplies, this project from I Love to Create is great for children of all ages and can be more elaborate for the adults as well. This is a perfect summer craft for kids!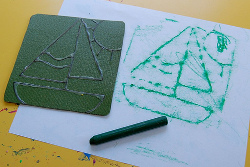 Materials:
Placemat
Pen
Aleene's Quick Dry Glue
Scissors
Crayon
Paper
Instructions:
First, cut the placemat into 4 small squares. I used a board book as my size guide.

If you are a great artist you could free hand an image onto your place mat squares, but alas I am not. I traced some very basic images from a vintage coloring book.

The next step is to go over your image with glue. I opted for Aleene's Quick Dry. I also did two coats to make sure my image was nice and raised. This will be important for the rubbing part.

Allow your glue to dry completely.

Using your new rubbing plates is the fun part. Lay your plate on a flat surface. Cover your plate with a sheet of paper. Using a crayon with the paper removed, rub. Presto, your image appears on the paper!



Your Recently Viewed Projects