Arrr! That's hello in pirate lingo. If you want to have some fun, do some pirate crafts! After an afternoon of making your own treasure monkey, you'll be full of pirate phrases and classic pirate one liners. Walk the plank of fun!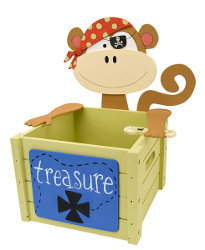 Materials:
DecoArt Products Required
Americana Acrylics

DAO1 - Snow (Titanium) White
DAO3 - Buttermilk
DAO67 - Lamp (Ebony) Black
DA259 - Cocoa
DA280 - Autumn Red
DA282 - Green Tea
DA283 - Blue Harbor
DA286 - Terra Coral

6" x 5" rectangle, Lara's Crafts Creative Shapes
Tracing and transfer paper
#12 flat brush
#0 liner brush
Low-temp glue gun and glue sticks
Water container
Palette or plastic plate
Paper towels
Sponge brush
Small round sponge pouncer
Square wood crate
Monkey, Jumbo Pals
Pattern
Steps:
Note:Allow to dry between steps.
Use sponge brush and Green Tea to paint crate inside and out.

Use sponge brush and Blue Harbor to paint rectangle.

Use #12 flat brush to paint monkey arms, tail, neck, ears, and part of face Cocoa. Paint bandana, Autumn Red; eyes, Snow White; muzzle, Buttermilk; and inside ears, Terra Coral.

Paint rolled map in monkey's hand Buttermilk and Green Tea.

Use sponge pouncer and Green Tea to stamp inside dots on bandana.

Trace and transfer lettering and X.

Use liner brush and Snow White to paint lettering on rectangle.

Use liner brush and Lamp Black to paint dash lines.

Use #12 brush brush and Lamp Black to paint X.

Position and adhere elements onto crate.
Tip:
A fine permanent marker can be used to re-do lines covered by paint.
Your Recently Viewed Projects