"22 Summer Crafts for Kids" eBook
Keep the kids entertained while they are out of school with the Summer Crafts for Kids eBook. Camp counselors, scout leaders, babysitters and parents will find great crafts for groups. Choose from 22 different craft projects for kids, including wearables, paper crafts and homemade toys. This is an awesome resource for crafting with kids.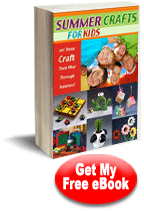 Download the Summer Crafts for Kids eBook now! [PDF]
Crafts are certainly fun for kids but did you know they are also very important for development? Research shows that arts and crafts help kids to develop brain capacity in early childhood. Participating in arts and crafts also encourages self?confidence, concentration and positive social skills such as flexibility and cooperation.

With the summer quickly approaching, the editors here at FaveCrafts have put together a resource for camp counselors, parents, babysitters, and others full of fun and varied craft projects for kids. These craft projects are the perfect way to keep kids entertained while out of school, especially on rainy days. We hope you enjoy doing these projects with the kids as much as we enjoyed putting this fun?filled eBook together.
In the Summer Crafts for Kids eBook, you'll find:

22 Craft Projects for Kids involving:

Homemade Toys Galore- Make yourself a fun frisbee (Page 16) for the Summer season. It will keep the kids entertained.

Fun Paper Crafts- Make a tissue paper frame (Page 21) for a friend. It's easy to make and it'll be something special.

Easy Crafts with Household Items- Silly putty (Page 31) is a great craft for the kids to make, they can play with it for hours.

Wearable Crafts for Kids- Save your money this season and make a flower t-shirt (Page 17). It's sure to be your own unique style.

Great Recycling Crafts- Recycle your used products and make a cute cat bottle bank (Page 10) or a yogurt cup bud vase (Page 47).

Bugs, Penguins, Turtles and more Animal Crafts- These finger friends (Page 24) are really cute for little kids. The friendly penguin (Page 39) is also a cute one.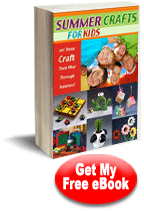 Download the Summer Crafts for Kids eBook now! [PDF]
For help downloading our eBook, please see How to Download our eBooks.
Looking for even more summer crafts for kids? Check out our other free eBooks:
Your Recently Viewed Projects