One Row Button Holes Knitting Tutorial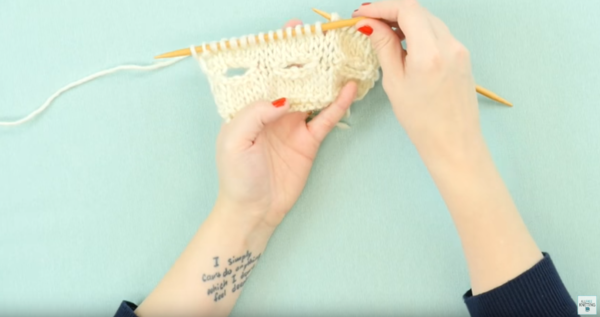 One Row Button Holes Knitting Tutorial
It is definitely getting chilly out, meaning it is that perfect time of year for you to start bundling up! This One Row Button Holes Knitting Tutorial can show you how you can make DIY knit clothes while incorporating a button pattern. This is a super easy knitting tutorial that will help you master this technique. Plus, the how-to video takes you step by step showing you exactly what you need to do and how it should look while you're making your row of button holes. Whether you knit all the time or you are just starting to try it out, this is a great knitting utensil!
Time to CompleteUnder an hour
Primary TechniqueKnitting

Project TypeLearn a Technique
How to Knit One Row Button Holes
One Row Button Hole Knitting Instructions
You want to work in pattern, to the point where the pattern calls for the one row button hole. 

Bring your working yarn to the front of your work, slip one stitch pearl wise, and bring your yarn to the back. 

Bind off a few stitches without working them. Slip a stitch and pass the previous stitch over the stitch you slipped off. Repeat three more times. 

Now you will have a small arch in your work. Slip one more stitch from your right hand needle to the left hand needle, and turn your work over to the wrong side. 

Tip: Since you will be turning your yarn a lot always remember to keep your yarn at the back of your work, excluding when you have to do one of those wraps discussed in step 2.

Now you will do a cable cast on to finish the loop of the one row button hole. Start by casting on 5 stitches by inserting your right needle between the first two stitches (instead of going in the loop of the first stitch). Then, wrap your yarn and bring it back through, and put that wrap on the left needle. Repeat 4 more times. 

Turn your work back to the right side. Slip one stitch and pass the last of the cable cast on over it, to finish the button hole. Then, you finish the row as the pattern calls for. 
Your Recently Viewed Projects