Guitar Reverse Applique Shirt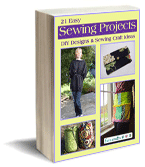 If you like this project, then you'll love the free sewing patterns featured in the eBook, 21 Easy Sewing Projects: DIY Designs and Sewing Craft Ideas. Download a copy today - it's free!
This free applique pattern really rocks the house. Use leftover fabric to create a brand new shirt for your favorite little guy. A long-sleeved striped shirt shows through the guitar shape in the t-shirt on top for a very cool look. Kids will love showing off the design to all of their friends.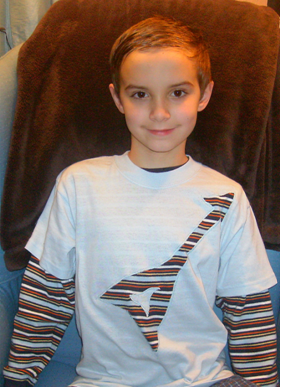 Materials:
Instructions:
So first find 2 coordinating shirts (preferably one with long sleeve and a pattern on it if possible). Next place the patterned shirt inside the other shirt and line up all seams, shoulder, and neck.



Next print off your guitar pattern and cut out the 2 pieces along the solid lines.



Next pin the guitar pattern on the shirt in the direction you want. Pin thru the paper and top 2 shirt layers.



Next sew about a 1/8 inch along the outside of the paper template. Only sew thru the top 2 layers of the shirt.



After sewing along all the edges- remove the pins and paper. Next carefully cut out only the top shirt fabric inside the guitar pattern you just sewed on. Cut close to the thread- but make sure not to cut thru the thread!!



Next sew a zigzag stitch with coordinating thread all around the cut edges. Next take the small piece of pattern you cut out earlier and pin in place. Zig Zag Stitch around the edges to hold in place.


Your Recently Viewed Projects