It's easy to show your Christmas spirit with a Pretty Holiday Barrette from Candace Jedrowicz! Christmas hair accessories are a fun and easy way to add a festive touch to any outfit. Make some noise this season with a cute, fun wearable craft.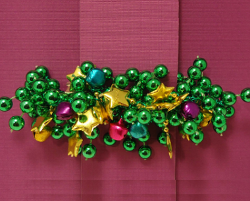 Materials:
Garland – 36″
Accent garland – 12″
Wire – 24 – 26 gauge – floral wire would be sufficient
Scissors
Chain nose pliers
Round nose pliers
Wire cutters
Instructions:
Begin by cutting your garland in alternating lengths of 5 and 6 beads. Cut the accent garland in 1 1/2″ lengths, or with large beads on both ends.



With 18″ of wire, begin wrapping tightly between the beads: the center of 6 beads alternate between the 2nd and 3rd of 5 beads.



Be sure to leave a wire tail before the first row of beads to attach to the barrette.

Wrap the wire around the bead string twice on each row and add the next row as close as possible. Be sure to leave a wire tail on this end, too.



When all the bead rows have been added, look at both sides to determine the top and bottom. The side with a straight line of wire showing is the bottom.



Wrap one of the wire tails through the hole in one end of the barrette.



Wrap the other wire tail through the other end.



The rows of beads will be too long to lay flat so scrunch it together as much as possible.



With an 18″ piece of wire, wrap between the rows and around the barrette, behind the metal arc of the barrette.



Add the accents in several places on the barrette with a 12″ piece of wire. Wrap around the center and pull the wire tight to make the ends of the accents stand up.



Add colorful bells here and there, attaching them with wire.Be sure to tuck all wire ends under.


For a comprehensive video tutorial of this project, check out How to Make a Holiday Jingle Barrette.
Your Recently Viewed Projects