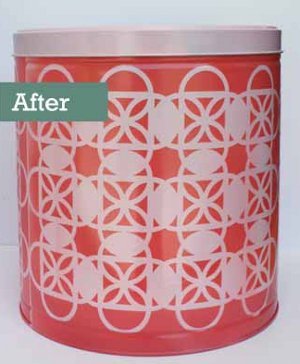 Do you have an old popcorn tin that's just begging to be reused? Check out this awesome project idea from Cristin Frank. These popcorn tins are large enough to be repurposed as a decorative trash can or storage container. And with the great spray paint colors from Krylon and pretty stencils, it's easy to create a custom tin! This Upcycled Christmas Tin also makes a great gift for giving your own handmade popcorn or other DIY gifts. Great for budget-friendly crafters, this project will make your holiday gift wrapping a breeze!

Get more recycled crafts delivered straight to your inbox!

Sign up for the Trash to Treasure Newsletter
Primary TechniquePainting

Materials List
1 large tin container (Popcorn tin)
1 Stencil
1 can Krylon Easy Tack Responsive Adhesive
20" Masking tape
1 can Krylon Color Master Paint + Primer spray paint in Coral Isle
1 can Krylon Color Master Indoor/Outdoor in Ballet Slipper
Instructions
Thoroughly clean the inside and outside of your popcorn tin.

Lay a tarp outside on the grass. Place your tin on the tarp. Put on protective eyewear and a mask. Then begin to spray paint the base coat of your soon-to-be decorative storage tin.

Once your base coat has fully covered your popcorn tin graphics and is dry, you will need to spray the Krylon Easy Tack Responsive Adhesive on your stencil. Be sure to spray lightly and evenly. Then press the stencil onto your tin. It will adhere nicely around the curve of your can. Mask off the sides around your stencil so you don't accidentally spray onto your base color.

Spray over the stencil with your second spray paint color.

If your stencil is a step and repeat, carefully remove the masking tape and stencil and reposition. You shouldn't need to respray the stencil with adhesive.
Your Recently Viewed Projects