Toilet Paper Roll Bracelet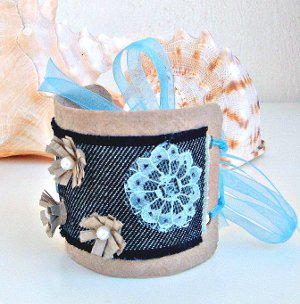 This beautiful Toilet Paper Roll Bracelet from Maria Chatzi is a great recycled project to make. Girls of all ages will love decorating these cute bracelets, and they're great to wear anytime, since they're lightweight and fun!
Materials:
A toilet paper roll
Paper bag
A piece of cotton or synthetic doily with a flowery design, color: light blue
Light blue organza ribbon, 0.3 inches wide and 44 inches long
Jeans fabric, 4.3 inches long and 1.8 inches wide, color: preferably dark blue
Pure cotton fabric, 4.3 inches long and 1.86 inches wide, color: beige/dark sand
3 small white pearls
Scissors
Pencil
Ruler
Paper punch
Glue
---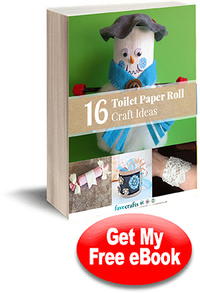 ---
Instructions:
Take your scissors and cut your toilet paper roll open (from one end to the other). Measure and cut 2/3 of the length of the paper roll you've just cut open. Put this larger piece aside for a while. Do not flatten it. It should stay curved enough to wrap around your wrist, leaving an open space – ends should not meet. This is going to be used as the base of your cuff. Flatten the remaining 1/3 of the paper with your hands, fold it in half on its wide side and cut it with your scissors. You should have two equal smaller pieces.



Take one of these halves (save the other half for another project) and cut it lengthwise into 3 identical strips. Use your scissors to make a fringe on all three strips. To continue, cut a piece of paper from your paper bag that measures a little more than twice the dimensions of the paper roll cuff base. Crumple the paper bag piece twice and spread it out twice. Then wrap it around your cuff base. Use glue to secure it. Hold it in place with your fingers till the glue has dried. Mark with two dots the place where you're going to make the holes for the ribbon, on both ends of your cuff. Distance between dots should be 1.1 - 1.2 inches.



Open the holes on both ends of your cuff (for the ribbon) with the paper punch.

Glue the jeans fabric onto the top (or outer) surface of your cuff and the cotton fabric on the bottom (or inside) surface that will come in contact with your skin (pure cotton prevents allergies). Wait for the glue to harden.

Roll all three fringe strips, one by one, to make flowers. Begin with a tiny blob of glue on one end of the strip, continue with two or three more tiny blobs of glue while rolling and finish with a last blob of glue on the other end of the fringe strip.

After the flowers have been rolled up, hold each one of them between your fingers for a few minutes to make sure the glue has hardened.

When the glue has dried, glue them onto the jeans fabric, in the centre of your cuff (fringe side up). Position them on the points of an imaginary triangle. Keep them in place by pressing them gently with your fingers, till the glue hardens and is completely dry – this is VERY important because, if done in haste, you will ruin the project.



Open their petals and glue a white pearl in the centre of each flower. Wait, again, till the glue is dry.

Cut out two flowers from your light blue flowery doily piece. Glue them onto the jeans fabric, on the right and left sides of your cuff.

Now cut your organza ribbon in four equal pieces. Knot-tie these four ribbon pieces in the holes you've made before – one ribbon for each hole.

Hold the two organza ribbons on each cuff end in your hands and knot-tie them together, as close to the cuff as possible.

Your cuff is ready. Wear it around your wrist by tying a pretty bow with all four ribbons.
Your Recently Viewed Projects