Simple Times Crafts for Poor People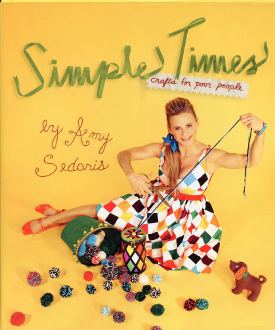 Simple Times Crafts for Poor People
By Amy Sedaris
Gifted by Grand Central Publishing
http://www.hachettebookgroup.com/publishing_grand-central-publishing.aspx
Reviewed by Maria Nerius:
I read an interview with the author before reading this book so I knew that many individuals contributed craft projects to the book and I read that Sedaris put all her crafting supplies into storage after completing the book. I thought this must be a book for youth as I was a little shocked to see on page 114 a sewing needle stuck into a person's hand. The chapter is on safety, which is always a good thing to keep in mind. However the gouged hand on the opposite page really turned my stomach. Then as I read further I decided that this wasn't a book I'd give my great nieces as the Cuddle Time was a bit much showing a little too much skin. There are some really fun projects in the book, but overall I got a sense that the book was making fun of me as a crafter. I don't know too many poor people who could afford spending $27.99 to buy the book. I think this is a book for those with a different sense of humor than my own. I've never written a negative review before and I hope this one isn't too negative. I just want to warn my fellow crafters that the book uses rather cutting edge humor while presenting some of the coolest retro and contemporary crafts.
Reviewed by Karisa Tell:
You might be able to tell by the title of Amy Sedaris's new book that she's not clambering to become the next Martha Stewart. In fact, her goal in Simple Times: Crafts for Poor People seems to be to poke fun at the crafting community, an "elite society" that "virtually anyone without a job and access to pipe cleaners can join," according to Sedaris. The real joy in this book is not the crafts themselves, but Sedaris's sardonic musings about making "a lovely something that nobody needs." In fact, if you make a project from this book, chances are it will be something that nobody needs: tin can stilts, chorizo neck warmers, and an entire chapter of unreturnable gifts are a few of the "projects" included in this book, which is more of a satirical look at the ridiculous side of crafting than an actual instruction manual. Readers may be offended by the implicit sexual remarks and drawings included in the chapter on "fornicrafting," the graphic images in the craft safety section, and the chapter on Crafting for Jesus, but crafters with a dry sense of humor who are comfortable laughing at themselves will love the clever writing and colorful photo spreads. If you're a fan of Amy Sedaris, you'll love this raunchy, saracatic spin on crafting.
Your Recently Viewed Projects
Join our community of 5 million crafters!
Get free craft projects, exclusive partner offers, and more.
Thank You for Signing Up!
There was an issue signing you up. Please check your email address, and try again.