Beaded Memory Lamp
To create your own Beaded Memory Lamp, hang cherished photos from a beaded lampshade. It takes some time to make, but you'll love the end results. Upcycling craft ideas help you cut costs when decorating your space. Best of all, this upcycled home decor crafts is extremely meaningful. Each time you look at this handmade piece, you'll reflect on your favorite memories and think of the people you love. Be sure to use a lamp you already have or head to your local thrift store - you can use a variety of fun techniques and embellishments to make it look brand new.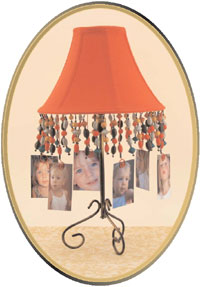 Materials:
Black wrought iron lamp base
Dark red fabric lamp shade
FIMO Soft – one 2 oz. package each of: Metallic Emerald Green, Metallic Red, Red, Granite, Black, Copper, Silver, Gold
Amaco Rub 'n Buff – Antique Gold
Amaco FunWire – Red (18 gauge); one roll, Black (24 Gauge); 2 rolls
Small glass grey/black beads with holes large enough for FunWire to fit through
Needle and thread
Amaco Tri bead roller
Hand drill (to make holes in beads)
Wire working tools

Instructions:
Measure distance around base of shade. You will need one string of beads approximately every 2 inches. Each string is comprised of four beads.

Mix a small portion of Black clay into Emerald Green to make a turquoise color. Mix half block of Metallic Red with Red clay. Condition all clays carefully and then make assortment of beads using Tri-Bead roller. This shade used 36 bead sets and 6 spirals. For this you will need:

18 each of: oval red beads
24 each of: black pillow beads, round red beads, round gold beads, granite oval beads
12 each of: silver bicone beads, copper bicone beads, turquoise bicone beads


To make pillow beads, use more clay than needed and roll an oval bead then flatten slightly and shape to resemble a pillow. If desired, make the holes in the beads before baking according to instructions on the packet.

If you haven't already done so, drill holes in all beads using a hand drill. Make an extra large hole in 6 oval red beads to take 18 gauge wire. Thread onto 24 gauge black wire in these configurations starting with a glass bead to fix the wire onto and interspersing each bead with a glass bead:

Set 1: gold round, silver bicone, gold round, red oval.
Set 2: granite oval, red round, granite oval, turquoise bicone.
Set 3: copper bicone, black pillow, red round, black pillow.


Finish with a small loop after checking to ensure the string is the same length as the others (approx. 3.5-4").

Cut six 14" lengths of red 18 gauge wire. Roll one end into a large flat spiral. Add three glass beads, one red oval bead and finish with a glass bead. Wrap the top to make a small loop ensuring all the coils you make are approximately the same length.

Flip the lampshade over to measure and mark the place each bead string will go. You will alternate the three strings and after every six bead strings, add a spiral. Sew the bead sets to the shade using neat stitches placed along the inside edge of the shade – this way you won't see the stitching from the outside.

Apply Rub 'n Buff lightly to the wrought iron base. Place it in areas that are easy to get to and rub it very lightly into the surface so you get a distressed, aged look.

Print 12 photos at a small size (maximum 3.5" tall). Trim and adhere back to back.

Assemble shade onto lamp base. Adjust bead sets so they hang well. Slip photos onto spirals on the shade.
Your Recently Viewed Projects
Join our community of 5 million crafters!
Get free craft projects, exclusive partner offers, and more.
Thank You for Signing Up!
There was an issue signing you up. Please check your email address, and try again.