A company who sell paper beads to craft stores and bead stores all hand-rolled by women in the Philippines
Table of Contents
About Janice Mae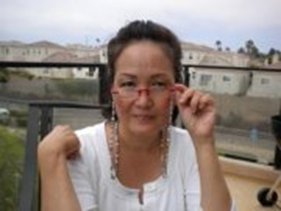 I am a hopeless introvert, who would rather stay at home and do my crafts. A year ago, I discovered blogging and I have been posting my creations to share with other crafters. I love connecting with people this way because I could do it in my pajamas at home.
I grew up in a small coastal town in the Philippines, I remember picking up shells and filling up a bucket with beautiful unusual shells. So much has changed since then, that place no longer exist, wiped out by tsunamis years ago.
How the paper beads mania started? Let me see…..I saw in a magazine how kids are making them at a summer camp. I got so intrigue by the colorful paper beads and I goggled everything on paper beads. My sister and I keep in touch and talk on the phone once a month just to say "hi", I never talk to her about beading or jewelry making because she is not into these things. One evening, she called while I was in the middle of cutting up magazine pages, rolling them, gluing and experimenting, when she asked me what I was doing. It was like kismet with that simple question. I spent an hour explaining to her everything while on the computer showing her images, she caught me by surprised me with her enthusiasm. We hang up the phone and she called me again the next day, she told me that she did not sleep and that she had made thousands of paper beads already. The next few days with her was a flurry of cutting paper, organizing women, gathering magazines etc., she has always been involved with charity and she always complains to me how there is not just enough jobs for women or anybody in general and that they needed something to do. The rest was history (like they say). Twenty or so women signed up.
I am a self taught beader, due to time constraints. I discovered beading years ago and got hooked making jewelry. I had too many beads; it almost overtook my whole house! A small shop closed down the street from my house, and I told my husband, we could rent the shop down the street and I could move all my beads there. I guess he just wanted me to free up some counter space, because to my surprise he agreed. I opened my shop in July of 2008; my sister started the paper bead company, in February 2009.
Now, my shop just sells paper beads, mostly. I supply the local bead shops and I also have an online store. The first profit we made of $500 went to buy school supplies for kids in the poorest part of Manila. Three hundred children got notebooks, pencils and crayons, amazing what $500 can do. Most of these children go to school without school supplies, things that we just take for granted.
I am amazed at the quality of the paper beads; they look like wood or shells in person. We sell and make nice jewelry pieces with them. I have mixed them with real pearls, crystals and semi precious stones. I just love it when I tell strangers I met, that they are paper beads and the surprise look on their faces. I get a kick out of it. We will have another donation of school supplies in May this year, the next school year opens in June for the Filipino children. I do not mind donating 100 percent of our profit to this worthy cause, my other goal this year also is Christmas presents for the kids this Christmas 2010. I have an upcoming website that will sell mainly paper beads jewelry, hopefully it will be public by the end of this month, will keep you posted.
Hobbies: I have been crocheting since I was six years old, I sew, make one of a kind jewelry pieces.
Profession: Health Care worker. I own and operate a nurses' registry for almost twenty years now, the paper beads and the other hobbies I have keep me sane from all the stress with the job and just life in general. Most importantly helping underprivileged kids makes everything worthwhile.
About the Beads
We have the most exquisite paper beads and to the untrained eye they look like sea shells or wooden beads. They are carefully hand selected from magazine pages, catalogs, posters and old calendars. Each paper bead is hand rolled by women in the Philippines to supplement their income. We are very proud of our small round beads as small as 4mm size which are often used by jewelry designers. The making of paper beads is not a new craft they have been around for years and also produced in other parts of the world like Africa. We are proud to say that we are the first one that incorporates paper beads with pearls, crystals and gem stones. They are elegant and something that you can be proud of. Paper beads used to be a craft done by children, not anymore.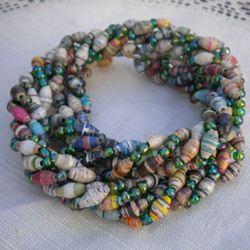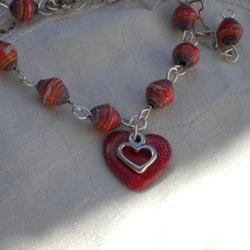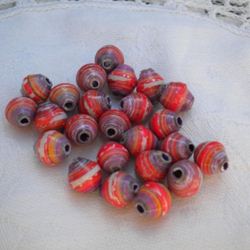 Where to Purchase Beads
Our products can be purchased at www.aubreysbeads.com and www.janicemae.etsy.com and pretty soon in major craft retailers.
Summary of Links
www.aubreysbeads.com
Contact Info
Aubrey's
160 N. Glendora Ave., # D
Glendora, CA. 91741
626-914-7183
Email: jmbau2@yahoo.com or you can email me at aubreysbeads.com and paperbeads.org

Videos at FaveCrafts
How to Make Rolled Paper Beads with a Metal Bamboo Roller
Project of the Day
Transform a plain wreath with some no sew fabric flowers. Decorate your door by adding a fun and festive Fall Fabric Flower Wreath… See more

Something worth saving?
SAVE all your favorite crafts
ADD personal notes
QUICKLY reference your crafts