Fabulous Miniature Thanksgiving Dinner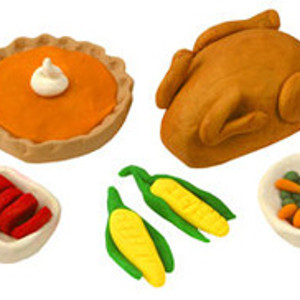 If you're looking for a unique little table decoration or fun hostess gift, this Thanksgiving craft idea is just what you need. You will find no better meal than this Fabulous Miniature Thanksgiving Dinner. Simply adorable, this tiny Thanksgiving feast will surely serve up some smiles. It will also keep the little ones occupied while you're finishing dinner preparations, because this is an easy Thanksgiving craft for kids as well. This Fabulous Miniature Thanksgiving Dinner won't fill your belly, but it will fill your heart with happiness.
Materials:
Clays

Sculpey® III, 2 oz , White - 1 block
Sculpey® III, 2 oz , Sweet Potato - 1 block
Sculpey® III, 2 oz , Red - 1 block
Sculpey® III, Kit, Tan - 1 block
Sculpey® III, 2 oz, Emerald - 1 block
Sculpey® III, 2 oz , Yellow - 1 block

Disposable plastic knife
Toothpicks
Instructions:
Preheat oven to 275 °F. Test temperature with oven thermometer for perfectly cured clay. Condition all clay by kneading until it's soft and smooth or running it through the Clay Conditioning Machine for several passes on the widest setting. Fold the clay in half after each pass and insert the fold side into the rollers first.

Ball - Take a lump of clay and roll it in your palms until its smooth.



Teardrop - Start with a ball of clay and then taper it on one end with your fingers.



Coil - Roll a lump of clay until it¹s long and skinny.



Roll a 5/8" ball of Tan clay. Flatten into a round disk. Using a toothpick or wooden skewer make a rim on the disk and flute it to look like a pie crust. Fill crust with a flat round disk of Sweet Potato clay and top with a tear shape piece of White clay, it's the whipped cream dollop.

Start with a 1 1/2" ball of Gold (after all you want a "golden brown" turkey). Roll the ball in your palms to form an egg shape. With 2 small balls of Gold (½") form elongated teardrop shapes for the legs, attach to the wider end of the egg shape. Use 2 additional balls of Gold (smaller than ½") to form two short logs. Flatten the logs slightly and attach to the tapered egg shape for the wings. Flatten a ½" White ball to form the turkey platter.

Start with a ¾" log of Yellow clay. Crosshatch the "corn" using your wooden skewer or toothpick. Flatten two teardrop pieces of Emerald clay and wrap around the ear of corn.

Flatten a ½" ball of White clay. Using your thumb as a tiny mold, form the white clay into a bowl shape. Now for the peas and carrots; form tiny Emerald balls and Sweet Potato logs. Pile the veggies in the bowl. It's that simple!

Make a ¾" log with Red. It should be a rather thick log. Make some slices of the cranberry sauce using a plastic knife. Form a ball from a ½' ball of White clay. Form a dish for the cranberry sauce. A shorter amount of time is needed to bake all of these items since they are rather small, so bake them for 10 minutes at 275 °F.
Your Recently Viewed Projects
Join our community of 5 million crafters!
Get free craft projects, exclusive partner offers, and more.
Thank You for Signing Up!
There was an issue signing you up. Please check your email address, and try again.