Who doesn't like ice cream? This Ice Cream Party Hat from One Charming Party is the perfect idea for any birthday party. It's simple and quick to make, get all the kids at the party to make their own unique party hat.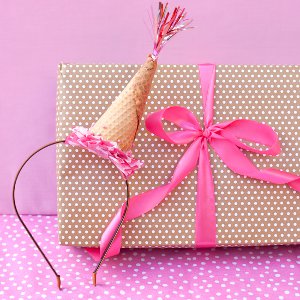 Materials:
Ice cream cone
Large sprinkles
Elmer's glue
Foil cake topper
Crepe paper
Hot glue gun
Plain headband
Instructions:
Prepare the ice cream cone first. Glue large sprinkles onto the base of the cone with white Elmer's glue. Make a hole into the top of the cone and insert a foil cake topper (ours is from ABC Cake Decorating in Orange, CA). If you don't have a foil topper you can use your own home made streamers.

Using crepe paper, make 2 rosettes. With a hot glue gun, glue the cone onto the first rosette. Then glue the rosette/cone onto a plain headband.

Using hot glue, glue the second rosette to the bottom so the headband is sandwiched between the two rosettes. See photo below. Voila! An ice cream cone party hat.

Your Recently Viewed Projects