Craft Room Makeover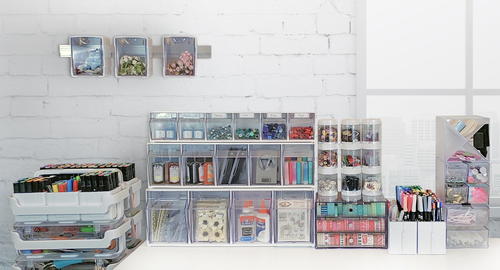 Learn how you can store everything in your craft room with this article. This craft room makeover showcases beautiful storage ideas to keep organized. If you find yourself constantly digging in the back of drawers, reaching up to far away shelves, and otherwise struggling just to find a material you need to complete your craft project, this article will inspire you to organize in new and easy ways so you can craft with ease. Don't misplace those craft supplies anymore! Keep them organized with this helpful article.
A place for everything and everything in its place – that's my moto for my craft studio. Using a variety of Deflecto craft storage allows me to keep everything organized, in its place, and visible.
Craft Tilt Bins are so versatile. Multiple sizes of bins allow me to store a selection of my media and embellishments right at my fingertips. The individual bins are removable, so I can grab just the ones I need for each project and place them on my desk. The 6 bin unit is where I store my smaller items like ink refill bottles, loose beads, and smaller ink pads. I use the 5 bin unit for spray inks, smaller punches, pigmented crayons, and smaller packages of embellishments.  Small stamp sets, glue bottles, packages of brads and eyelets, and larger ink pads fit perfectly in the 4 bin unit. I love that I can see everything in each bin, and best of all, they stack on top of each; no more wasting time looking for things.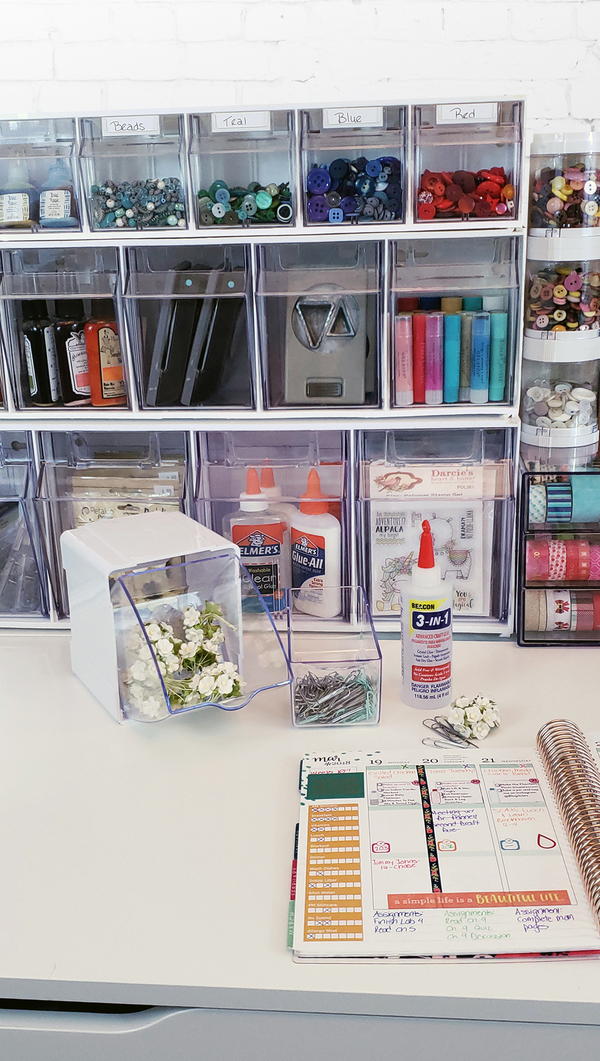 Are you like me and have way too much washi tape? I used to spend more time looking for the right washi tape roll than using washi tape. The Three-Drawer Organizer is a life saver! I was able to get more than 130 rolls of decorative tape in one cube! Now when I am working on my planner I can just pull out a drawer to grab the right roll rather than digging through a pile. I can also store my pens/markers, decorative scissors, tape runner, or small embellishments.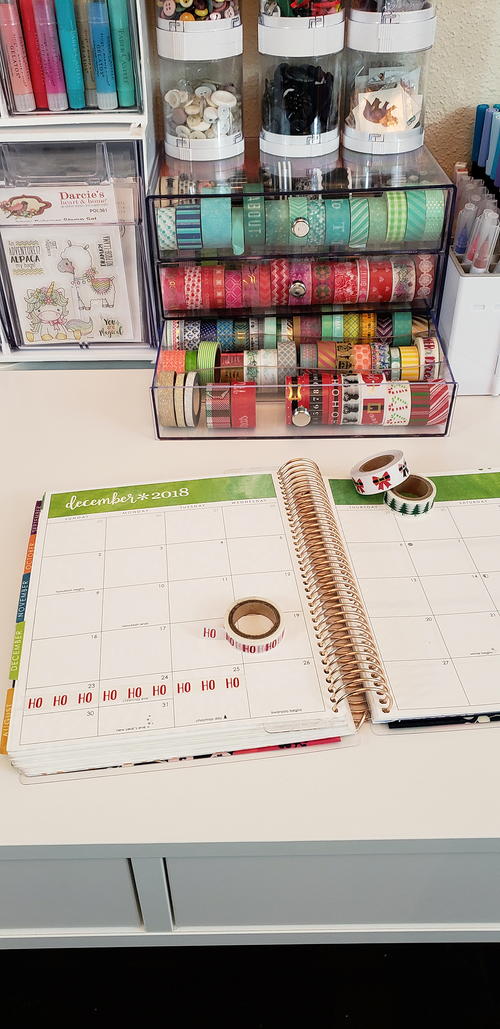 Do you love to get together with your friends to work on your planners?  Looking for the perfect way to carry your supplies with you? The Expandable Marker Accordion and the Stackable Caddy Organizer make it easy to pack up and carry your favorite supplies with you. The Expandable Marker Accordion holds a full set of markers, glitter pens, and colored pencils with a locking top that keeps everything in place. No worries about it falling over – everything is locked in.  Place your stickers, embellishments, tape runners, and scissors in the Stackable Caddy Organizer and you are ready to travel.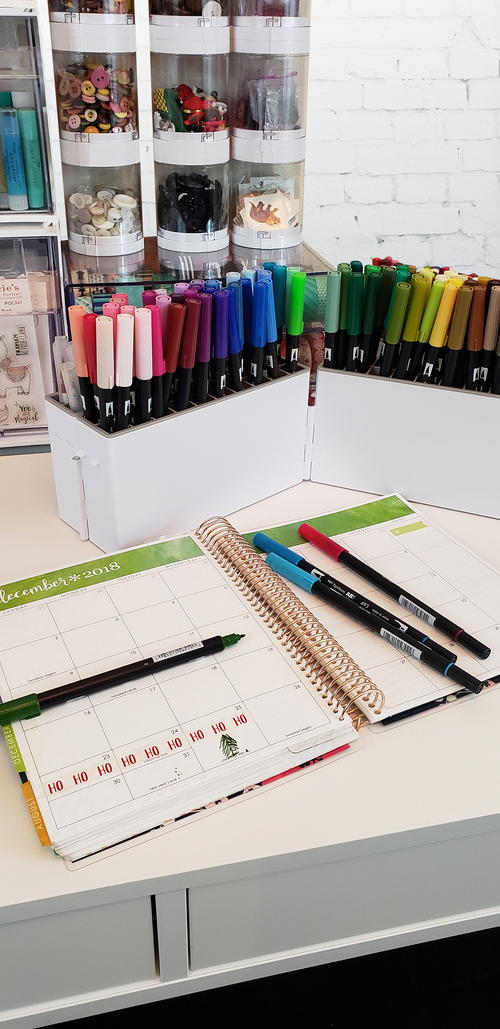 It's so much more fun to go quilt with friends than to stay at home. I used to haul a huge tote with stuff scattered in it. Now I can bring everything I need using the Stackable Caddy Organizer and the Caddy Storage Tray. The tray is perfect for holding my little pieces like bobbins, clips, needles, and buttons. There is plenty of room below the tray in the large container to hold my scissors, rotary cutter, thread, and quilting tools. I use a second large container to hold my fabric.  When it is time to head home, everything packs up in a flash.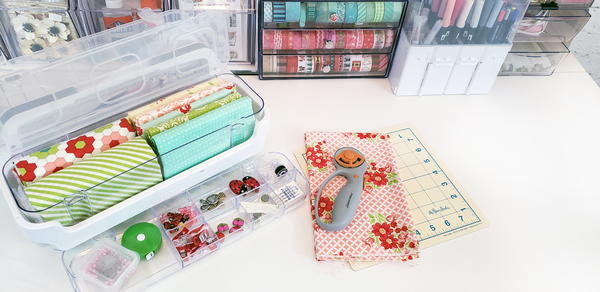 Hands down my favorite piece of storage is the Stackable Caddy Organizer with the Stack 'N Go Caddy Wheel base. This is PERFECT for taking to crops. Space is always limited, and it is so hard to keep your stuff organized. With the Stackable Caddy you can bring everything you want with you and because it stores vertically it takes up almost NO floor space. Every item is visible – just spin the stack around to see everything in it. Unclip the stack to grab the caddy you want and place it on your work surface. The wheel base makes transportation so easy; take it out of the car and wheel it in. Be prepared to guard them! People will be clamoring for them I promise.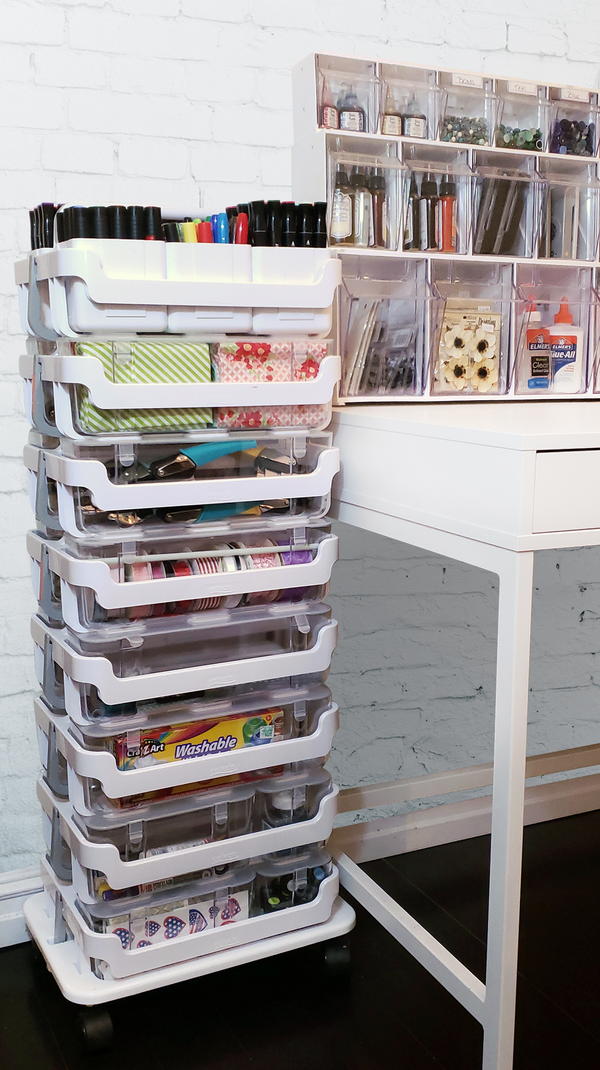 OK – I admit it. I have some serious issues with buttons. I have never run across a button I didn't need. This poses a real problem when it comes to storage. The Interlocking Stacking Organizer is a life saver. I can keep the buttons I use most right in front of me on my work surface, clearly organized. Each Interlocking Stacking Organizer set has three individual containers that can be stored together or separate.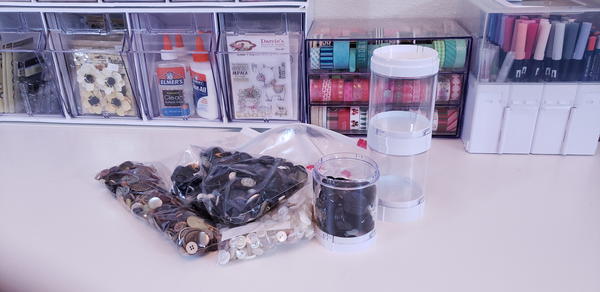 We all have those little bits and pieces that are so hard to keep organized. I do so many different crafts that I have a little of this and a little of that and it seems to end up everywhere.  The Stackable Cubes come in several different configurations. The 2- and 4-Drawer Cubes are amazing for small office supplies, tubes of glitter, hot glue sticks and your small glue gun.  The X Divider Cube can be used on its side or upright. Paint brushes, wood shapes, and glue bottles fit beautifully. Since they all clip together you can arrange the right assortment for you and your items with ease. I even had the cutest helper ever to help me sort my supplies.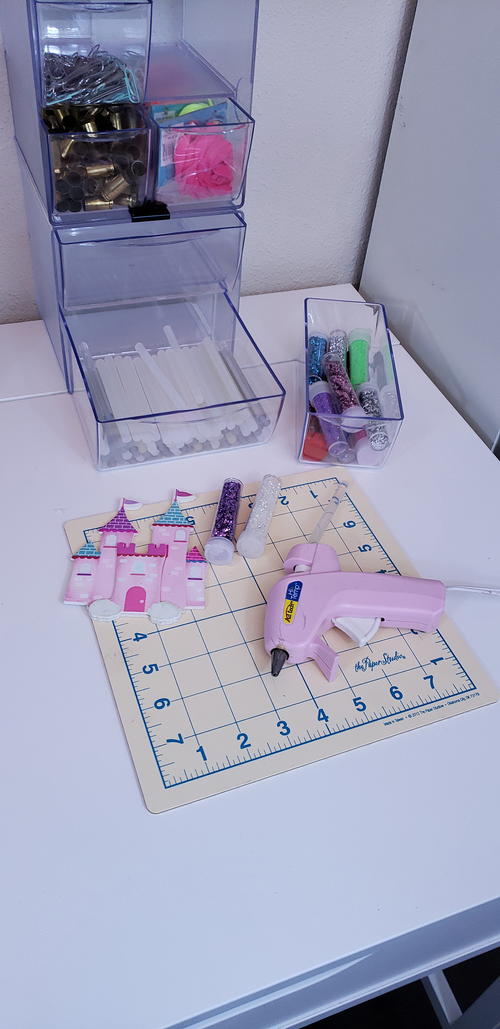 I use this right on my desk top and it replaced all those little cups, bins, and containers I used to keep scattered about. There is nothing more annoying than knocking over a cup of pencils because you are trying to get to the container of glue behind it. With the Rotating Carousel I can keep all those little pieces: glues, scissors, and embellishments within reach and easily spin it around to get the one I want. No more knocking stuff over.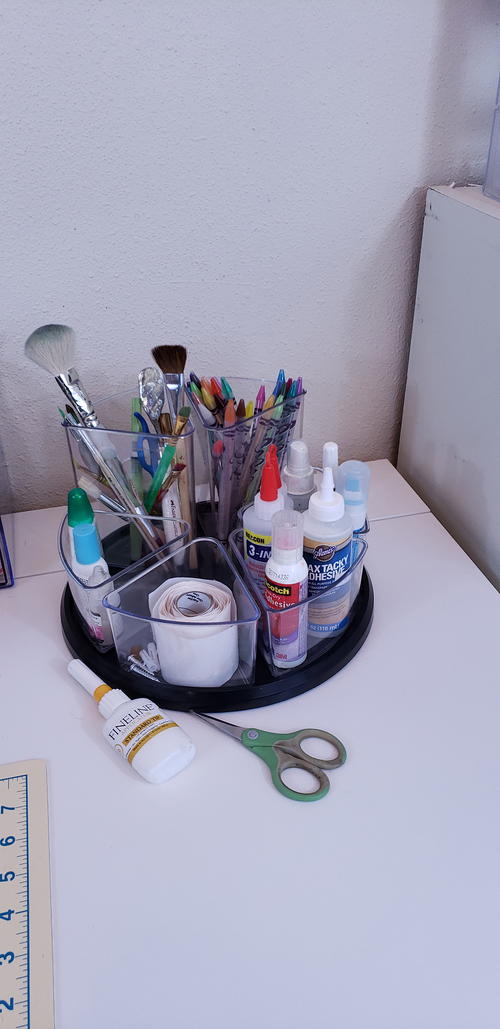 Right behind my button addiction is my ribbon addiction. Who can resist pretty ribbon? With the Ribbon Dispenser, gone are the days of shoving ribbon pieces and spools in a box. I can store my ribbon spools with ease, where I can see each one. The Ribbon Dispenser fits in the Large Container from the Stackable Caddy. I can even pull out just the amount of ribbon I need without opening the bin.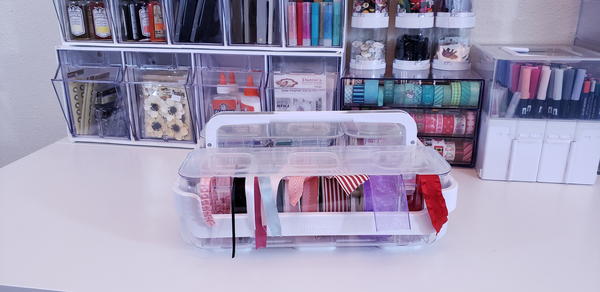 The Interlocking Marker Organizer holds all those chunky markers you have. Perfect for the Spectrum Noir brand as well as PITT Artist Brush Pens from Faber-Castell. The dividers are made from a flexible material, so you can squeeze those really giant markers in. If you or someone in your house is into coloring, you will love these. My princess loves that she can see every color and it is super easy for her to put them back when she is done.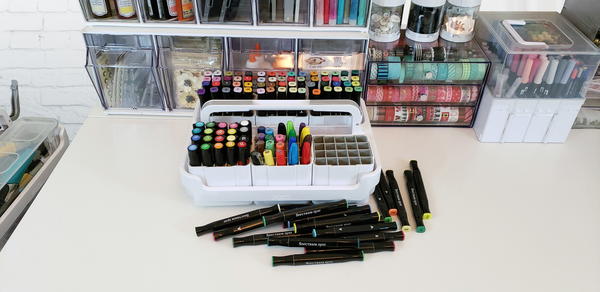 The Interlocking Tilt Bins can be installed on the wall or hung on the Wall Mounting Bar. On the Wall Mounting Bar, they are free moving and can be taken down to place on your worksurface. I use mine to store loose flowers, crayons, twine, and other small items. To take them with you, simply lock them together and place in your tote. They are so handy at a crop – they take up almost no space on your table, but you have plenty of items on display to work with.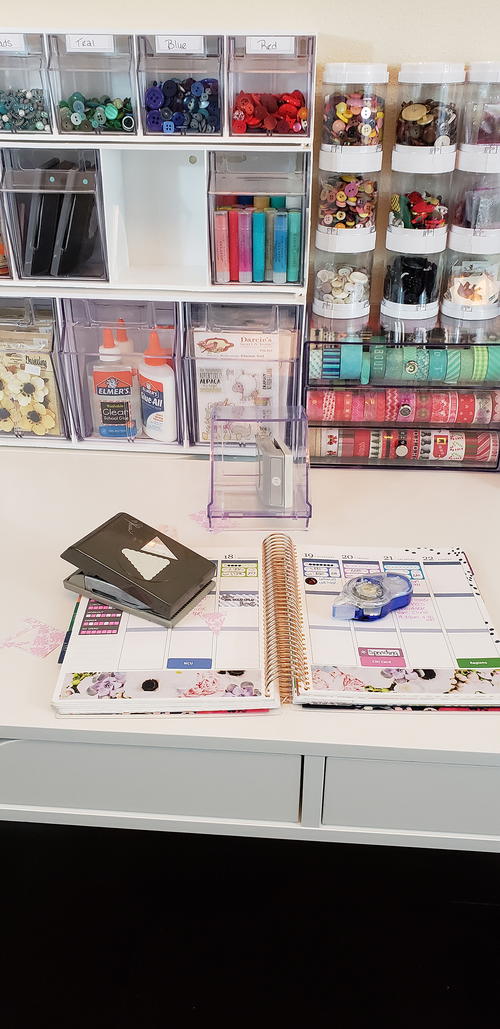 Your Recently Viewed Projects
Join our community of 5 million crafters!
Get free craft projects, exclusive partner offers, and more.
Thank You for Signing Up!
There was an issue signing you up. Please check your email address, and try again.