The Ultimate Craft Guide: 25 Free Craft Projects for Every Crafter
"The Ultimate Craft Guide: 25 Free Craft Projects for Every Crafter" Free eBook from Michaels and FaveCrafts.com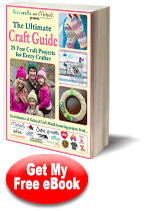 FaveCrafts has teamed up with Michaels Craft Store to bring you The Ultimate Craft Guide: 25 Free Craft Projects for Every Crafter, filled with never before seen projects that we know you're going to love!
In this eBook you'll find projects from several well-loved companies, including American Quilter's Society, Clover, Consumer Crafts, Design Master, Fiskars, Goodsmiths, I Love to Create, Leisure Arts, Lion Brand, Little Yellow Bicycle, Michaels, Oliso, Plaid, Red Heart Yarn, Sizzix, Swarovski Crystals, and XYRON! Broken down by category, the projects in The Ultimate Craft Guide cover a wide range of crafting mediums, so there's bound to be something for everyone. Craft along with us as we celebrate creativity, imagination, and inspiration!

Knitting and Crochet Projects
Knitters and crocheters alike will love the colorful patterns featured in The Ultimate Craft Guide. Projects from Leisure Arts, Michael's, Lion Brand, and Red Heart Yarn make this a diverse section, filled with lots of patterns for all skill levels. Elegant afghans, ruffled scarves, and hats for the whole family are just some of the projects you'll find in The Ultimate Craft Guide and each pattern comes with a full materials list, step by step instructions, and a large color photo of the finished project...so you'll have all the tools necessary to help you get inspired as you work your way through the book.
This Garden Patch Granny Afghan from Lion Brand Yarn is just one of the beautiful projects that you'll find in The Ultimate Craft Guide. Made with a variety of colorful yarns, this crocheted afghan pattern is great for using up yarn scraps or for mixing and matching colors to create a beautiful accessory for your living room or bedroom. The wide variety of shapes in this afghan are sure to keep you busy throughout National Craft Month!
That's the great thing about the projects featured in this free eBook. Some are simple and can be done in a matter of hours, while others are more complex and might take a few days to complete. No matter how much time you have to devote to crafting this month, rest assured that you're sure to find something to inspire you in The Ultimate Craft Guide!

Fabric and Sewing Projects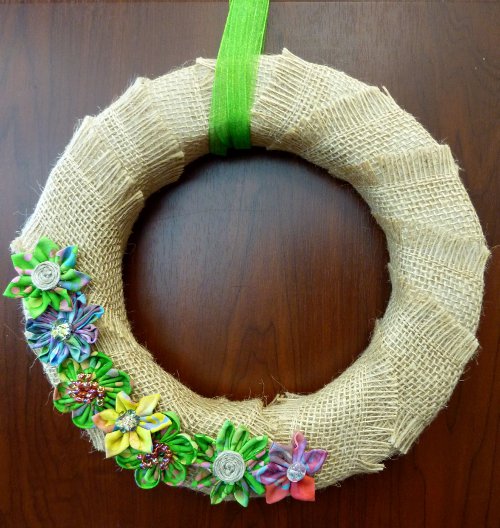 For those who enjoy sewing and fabric crafts, there are some adorable and fun projects from Clover, Goodsmiths, and the American Quilter's Society in The Ultimate Craft Guide. From cute wreaths to simple quilts that look professionally made, this section has wonderful projects that are sure to inspire and motivate you to create.
Every sewist and fabric crafter has a stock of leftover fabric scraps that they just can't seem to part with. If you find yourself holding on to bits and pieces of your favorite fabrics, you're going to love this great project idea from Clover. This project is actually three ideas in one, so it's versitle and fun to make. With some simple fabric scraps and a variety of Kanzashi Flower Makers from Clover, you can create a beautiful wreath, candle holder or frame decoration. The Kanzashi Flower Makers are a breeze to use and can help you create professional looking fabric flowers by simply following the numbered pattern on the device. You can also add flowers to clothing, purses, shoes, hair accessories and so much more. The possibilities are endless!
You can find this project idea, as well as several other great fabric and sewing projects, inside The Ultimate Craft Guide.
Don't Miss Our Other eBooks!
Be sure to check out our entire collection of eBooks. You'll find titles such as:

Jewelry Projects
With spring and summer right around the corner, there's no better time to start creating your own accessories. By mastering a few jewelry making techniques, you can create your very own bracelets, necklaces, earrings, rings, and much more. And with the projects you'll find in The Ultimate Craft Guide, you'll learn how to combine beads, ribbon, clay, and wire to create jewelry that will certainly help you stand out!
A simple sheer ribbon and a variety of your favorite crystals from Swarovski Crystals is practically all you need to create this beautiful Crystal Ribbon Bracelet. Perfect for a bride to wear to her wedding, or even for a bride to make for her bridesmaids, this sparkling yet simple accessory can be worn with anything from a wedding dress to a simple shirt and jeans ensemble. If you're feeling extra creative, you could even make a matching necklace or a pair of earrings to complete the set. That's the great thing about these jewelry projects that you'll find in The Ultimate Craft Guide. Although instructions are only given to create either a bracelet or a necklace, you can easily use the lessons from that project to help you create a matching piece. And what better time to stretch your creativity than during National Craft Month? Challenge yourself and let the projects in this free eBook serve as an inspiration to you to help you create all kinds of new accessories, home decor items, gifts, wearables, and so much more!

Decorative Crafts
The coming of spring also means spring cleaning--time to rearrange, donate, and redecorate. And with the help of The Ultiamte Craft Guide: 25 Free Projects for Every Crafter, you may find that you're inspired to start creating your own home decoration accessories. There are several great home decoration projects in this free eBook, so you're sure to find something that matches your style.
This cute Quote Art Canvas from ilovetocreate.com would be a great accessory to add to your craft room, bedroom, or hallway. A favorite quote or a simple reminder painted on the canvas can help you start your day off on the right foot every time you leave the house. Also, there are several colors available in the Classic Tulip One Step Tie Dye Kit, so you can easily create a tie dye effect with colors that will accent your existing palette. This is also a great project for kids and teens to do as well. Have them invite their friends over or enjoy an evening of family craft time and help them create a colorful canvas for their bedroom wall. Teens will love the bright colors available in the Tulip Tie Dye Kits and both boys and girls alike will love being able to express their favorite saying, quote, or song lyric on this colorful canvas.
If you happen to find yourself at the craft store looking for materials to help you accessorize your home, you could even pull up The Ultimate Craft Guide on your tablet or mobile device and use it as a guide as you shop. Each project comes with a full materials list, so it's easy to find exactly what you need to create these awesome projects.

Seasonal Crafts
March is the perfect time to "spring" into crafting, and these spring themed projects will help make it easy and fun! Best of all, there are also some great edible crafts, great for serving at Easter, Mother's Day, or just a simple springtime gathering. For example, this Blooming Bouquet Giant Cupcake Cake from Michaels is a fun and easy edible craft that you can make for any reason. Adorned with colorful fontant flowers, this giant cupcake cake is another fun way to express your creativity.
Even if you don't have much experience in cake decorating, you can find all the materials you need listed out for you inside The Ultimate Craft Guide. Best of all, chances are you can find everything you need to decorate this cake at your local Michaels craft store.
Cutting and embellishing fontant is similar to paper embossing and stamping, only you can eat your creation! Similar to working with clay or playdough, if you find that you don't like your design, simply rework the fontant and start over. Though it may look complicated, this Blooming Bouquet Giant Cupcake Cake is actually a great project for a beginning cake decorator, and a fun way to learn the basic skills of crafting with food.

Paper Crafts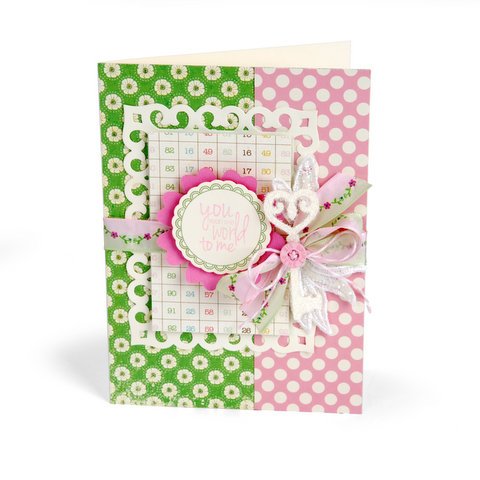 The great thing about paper crafting is that it's something anyone can do. From young children to seasoned designers, the art of crafting with paper can be appreciated by people of all generations.
Most paper crafts are inexpensive, quick to do, and a great way to learn about mixing and matching colors and textures. Scrapbook layouts, cards, and paper decorations are becoming more and more intricate, with elegant designs, stickers, and embellishments. You can use all kinds of materials to help decorate your project and make it more your own.
That's the great thing about the paper projects in The Ultimate Craft Guide. You can follow the directions exactly or you can use the project as a basic outline as you create your own fun design. For example, the You Mean the World to Me card from Sizzix, which you can find inside this free downloadable eBook, can be made as is, or you can change it up for any occasion. The sentiment can change, as can the embellishments and the color of the card stock. Sizzix even provides you with a variety of sentiments and embellishments in this free eBook, so they make it easy and fun to create and customize your own card design.

With your free copy of The Ultimate Craft Guide: 25 Free Craft Projects for Every Crafter, you can also subscribe to our Quick and Crafty newsletter to become part of the FaveCrafts community. In subscribing to the newsletter, you will receive:
Five weekly emails with free crafting patterns, tips, collection pages, videos and more + a weekly wrap-up.
Chances to win books and products from our weekly giveaways and contests.
New FREE patterns and eBooks made available to you throughout the year.
Access to our free pattern library full of over 1,000 of free crafting patterns.
The opportunity to share ideas and help others in the crafting community.
Filled with lots of great projects for crafters of all mediums, this free eBook is a great way to expand your crafting skills and fuel your creativity. With lots of great projects from some of the best companies in the market today, The Ultimate Craft Guide: 25 Free Craft Projects for Every Crafter is sure to keep you busy throughout National Craft Month and the whole year through!
Your Recently Viewed Projects
Join our community of 5 million crafters!
Get free craft projects, exclusive partner offers, and more.
Thank You for Signing Up!
There was an issue signing you up. Please check your email address, and try again.