Isn't this Throw Back Throw Pillow groovy? With some simple fabric paints and a plain white pillow case, you can create this fun decorative pillow that's perfect for adding touch of retro to your living room. This is also a great project for kids and teens to do at sleepovers. They'll love decorating their own pillow with their own unique style.
Find this project, and many more, in our new free eBook, The Ultimate Craft Guide: 25 Free Craft Projects for Every Crafter. Download your own free copy today!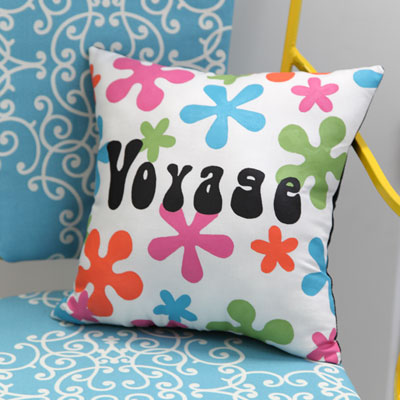 Materials:
Tulip® Soft® Fabric Paint Kit - Retro
Tulip® Soft® Fabric Paint - Ebony
Cotton fabric – white, black – ½ yard of each
Chipboard
Craft knife
Marker pen
Computer/printer
PolyFil
Large cutting mat
Quilter's ruler
Rotary scissors
Fabric scissors
Vanishing fabric marker
Thread – white
Needles
Straight pins
Acrylic paintbrushes – flat and liner
Foil or foam plate for paint palette
Glue stick
Iron and ironing board
Sewing machine (optional)
Instructions:
Prewash and dry fabric. Iron smooth.

Layer both the black and white fabric onto the cutting mat together. Measure out a 13½" square on the mat and cut with rotary scissors.

Draw an assortment of retro-style flowers in different shapes and sizes onto chipboard. Lay the chipboard onto the cutting mat and cut out with a craft knife.

Select a thick, retro-style font from your computer and type out the word "Voyage." Adjust it to the desired size, print and glue it to the chipboard, then cut out with a craft knife. Note: Wording can also be drawn by hand if desired.

Trace "Voyage" and the retro flowers onto the white fabric with vanishing fabric marker. Tip: To get an idea for the design layout, first create your design on a 12 x 12 piece of cardstock before doing so on fabric.

Once you have your design completely traced onto the fabric, paint in the letters with Ebony Soft Fabric Paint. Start with the liner brush around the edges and fill in with a flat brush.

Repeat this process with the flowers, using all of the paint colors in the Retro pack. Let dry completely.

Lay the painted fabric square face down onto the black fabric square. Measure ½" in from the edge and pin.

Sew around all sides, leaving about a 3" to 4" opening at what will be the bottom of the pillow.

Use your scissors to cut the corners at an angle, then turn the pillow right side out through the opening at the bottom, making sure to push out the corners.

Iron the pillowcase smooth (on the backside) then stuff with PolyFil. Hand stitch the opening closed.
Your Recently Viewed Projects