Magnolia and Oyster Shell Fall Wreath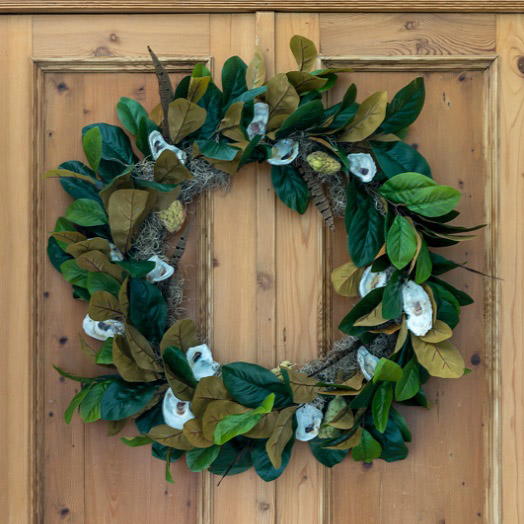 Magnolia and Oyster Shell Fall Wreath
"I was challenged by Ariel at PMQ for Two to come up with a fall wreath that was outside of the box and shied away from the traditional orange and acorns. That wasn't a problem since I've been looking for ways to use my stash of oysters that I acquired for my recent Oyster Shell Clusters. And since I live in coastal North Carolina in 'oyster territory' and September begins oyster season, I thought it was fitting to use oysters in my fall wreath. I also incorporated other local flora and fauna in my wreath with Spanish moss, magnolia leaves and magnolia seed pods. Pheasants are found in my area as well, so their feathers needed to make an appearance in my wreath. This was an easy wreath to make, and I'll give you a step by step to show you just how easy."
Materials List
24″ Wire Wreath
Magnolia Leaves. After going back and forth for way too long, I finally decided to use silk magnolia, despite the fact that I have all the magnolia leaves I could ever need within 20 feet of my front door. My decision to 'go faux' was because I hope to use the base of the wreath several times a year and it'd be nice to have it done the next time I want to put a magnolia wreath on my door. I purchased 3 Ashland Magnolia Leaf Bushes at Michaels, which was just perfect for the 24″ wreath.
Spanish Moss. I just went around the corner and pulled some off of a tree, but if you need to purchase it, you can find it on amazon.com or your local craft store
Oyster Shells. Try your local fish market and ask for their discarded shells. Once again, you can find oyster shells on line.
Magnolia Seed Pod. Once again I was able to get these in my yard and I am shocked to learn that you cannot find them on Amazon! I think it's a first. But you can find them on Etsy.
Florist Tape
Florist Wire
Drill and drill bit
Wire Cutter
NotesI really like the way this wreath game together, with the natural, more muted colors of fall and the pops of white from the oyster shells.
Your Recently Viewed Projects