Quick and Easy Crochet Butterfly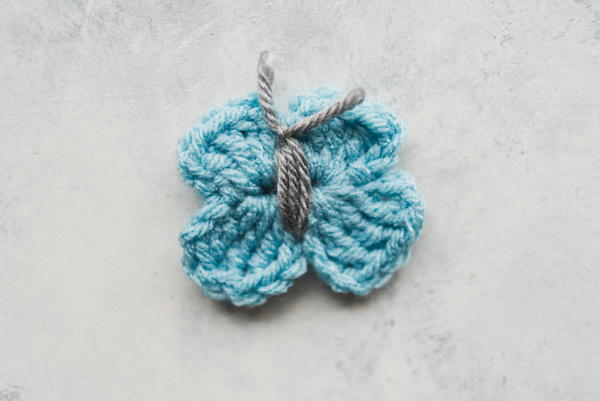 Quick and Easy Crochet Butterfly
So you've had it with crocheting a billion flowers to embellish your scarfs and hats with? Why not switch it up with this Quick and Easy Crochet Butterfly pattern? This crochet butterfly is unbelievably easy to recreate and embellish onto a ton of your spring crochet projects. Plus, this is such a quick and easy project it is the perfect way for you to use up some of that scrap yarn you have lying around the house. Turn your scraps into a colorful crochet butterfly!

Quick and Easy Crochet Butterfly
How to Crochet a Butterfly Instructions
Slip stitch in your first chain to make a ring. 

In the ring you have created, work three treble crochets. 

Chain 3. Slip stitch right into that ring. 

Repeat 3-5 one more time. 

Work 3 double crochets in that same ring you have been working all your stitches in. 

Chain 2 and slip stitch into that ring. 

Repeat steps 7-9 one more time. 

Make yourself a long loop, snip it, and weave in your ends. 

Use a contrasting yarn or embroidery thread to make the body, take your yarn make one antenna and begin wrapping your yarn a few times around the middle of the wings. Tie a double overhand knot, and snip your ends so that your two antennas are even. 
Your Recently Viewed Projects