Art Deco Purse and Mirror Set
This Art Deco Purse and Mirror Set makes a great gift for any woman in your life. Art deco is a simple yet elegant style that works for any occasion, whether you need to dress up or keep things casual. Follow this tutorial to learn how to make a felt purse that you can use as an adorable clutch when you hit the town for a night out. The matching DIY makeup mirror allows you to touch up your makeup in style.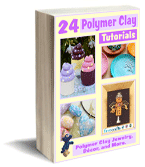 You can find this project, as well as many other Polymer clay tutorials, in our free eBook, 24 Polymer Clay Tutorials: Polymer Clay Jewelry, Decor and More!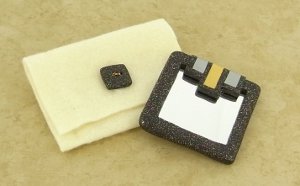 Materials:
1 block Premo! Accents: Twinkle Twinkle (NEW) - 2 oz
1 block Premo! Accents: 18K Gold - 2 oz
1 block Premo! Accents: Silver - 2 oz
Clay Conditioning Machine
Sculpey® Essential Tool Kit
2" square glass mirror (Darice)
White craft glue
1.5" x 1.5" cardstock
Ruler
Craft knife
Felt sheet
Scissors
Sewing thread and needle
Instructions:

Do not use unbaked clay on unprotected furniture or finished surfaces. Start with clean hands and work surface area. Good work surfaces include wax paper, metal baking sheet, or disposable foil. Knead clay until soft and smooth. For best results, clean your hands in between colors. Shape clay, pressing pieces together firmly. Bake on oven-proof glass or metal surface at 275 °F (130 °C) for 30 minutes per 1/4" (6 mm) thickness. For best baking results, use an oven thermometer. DO NOT USE MICROWAVE OVEN. DO NOT EXCEED THE ABOVE TEMPERATURE OR RECOMMENDED BAKING TIME. Wash hands after use. Baking should be completed by an adult.

Begin by preheating oven to 275 °F (130 °C). Test temperature with oven thermometer for perfectly cured clay. For best results, condition all clay by running it through the clay dedicated pasta machine several passes on the widest setting. Fold the clay in half after each pass and insert the fold side into the rollers first.



Coat mirror back with white glue. Allow to dry completely. Set clay conditioning machine at thickest setting and make Twinkle Twinkle sheet. Press sheet on mirror back and sides. Trim edges flush with mirror front. Press sheet on front of mirror. Trim and smooth edges to blend the front and the back. Center the index card piece on the front and cut through clay with knife, using index card as a pattern. Do not remove clay cutout.



Set clay conditioning machine at third-thickest setting. Make 18K Gold and Silver sheets and cut ¼" strips. Make Twinkle Twinkle sheet and cut 1/8" strips. Press Gold strip on center of back, over one edge and overlap cutout on front. Butt Twinkle Twinkle strips next to long edges of Gold strip. Press Twinkle Twinkle strip across ends. Repeat with Silver strips, staggering them to be a little shorter than the Gold strip. On front, use craft knife to cut around overlapped strips. Remove clay cutout.



Form ½" square Twinkle Twinkle round button. Use needle tool to make sewing holes in button. Bake mirror and button as directed above.

Cut 3-1/2" x 7" felt piece. Sew on button 1/2" from top. Fold felt 2" from edge with button. Machine- or hand-sew side seams ¼" from edge, with button at top of opening. Cut buttonhole on flap.
Tips:
Use rubbing alcohol and a small piece of lint-free towel to clean clay off the mirror before baking.
Make a few at the same time, and you'll have lovely handmade clay presents ready for birthday and thank-you gifts.
Your Recently Viewed Projects
Join our community of 5 million crafters!
Get free craft projects, exclusive partner offers, and more.
Thank You for Signing Up!
There was an issue signing you up. Please check your email address, and try again.