"23 Gingerbread House Designs and Recipes" eBook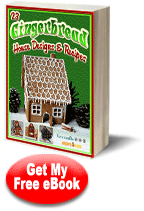 FaveCrafts and RecipeLion present...
"23 Gingerbread House Designs and Recipes" eBook


Table of Contents
Gingerbread houses predate even the oldest of American Christmas traditions. The first gingerbread houses came from Germany and were featured in fairytales like Hansel and Gretel, and they eventually became the Christmas tradition we know and love today. FaveCrafts and RecipeLion have teamed up to bring you the perfect collection of 23 Gingerbread House Designs and Recipes. These gingerbread house ideas are a great way to celebrate the joys of Christmas with your loved ones. The projects in this collection are the best way for the crafty culinary artist or the sweet-toothed artisan to show off his or her flair for edible architecture. House all your gingerbread people this year with your very own gingerbread abode, or make all sorts of fascinating adorable and edible crafts for Christmas. If this sounds like your newest holiday tradition, this 58-page eBook full of gingerbread house patterns, recipes and Christmas craft ideas is just for you!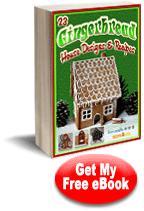 Download 23 Gingerbread House Designs and Recipes today!
No holiday craft is so fulfilling as building and decorating gingerbread houses for Christmas. Allow your inner crafter, architect and culinary artist to collide as you design, construct, build and decorate your very own gingerbread house. The level of design mixed with Christmas gingerbread house recipes, the dedication, the trial-and-error of personalizing your project or testing out a new gingerbread house template, and of course the precious finished product that serves as both exciting snack and adorable decoration—all of these elements come together to create the best of all gingerbread craft ideas. Nothing beats the smile on a child's face when he or she learns how to make a gingerbread house… except maybe eating all of the candy while you decorate! Not only will you and your family be able to build a gingerbread house with this eBook, but you will also find the best recipes to embellish the outside with an assortment of candy. You'll learn how to add windows, fences, shingles, porches, pathways, Christmas lights and more, just by reading this wonderful Christmas eBook.

But that's not all that's in this guide. In addition to three fantastic gingerbread house patterns and ideas for decorating gingerbread houses, this collection also includes a plethora of adorable gingerbread craft ideas for the Christmas enthusiast and gingerbread recipes to snack on while you make them! In addition, this eBook contains a whole section entirely dedicated to gingerbread house candy ideas so that everything about your creation can be completely homemade! The craft ideas in this eBook make great decorative accent pieces, including centerpieces, wall decorations, ornaments and more. Plus, you'll even find great gingerbread-themed homemade gifts inside. You really can't go wrong with this magnificent collection of holly jolly gingerbread recipes.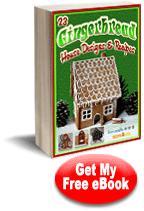 Download 23 Gingerbread House Designs and Recipes today!
This chapter contains three excellent gingerbread house designs, and each one is completely unique. Take a tour around the world with this beautiful German Gingerbread House, or Lebkuchenhaus (pg. 6). This traditional gingerbread house template makes a picture-perfect holiday decoration and a sweet treat! The Classic Christmas Gingerbread House project (pg. 13) is so easy to personalize with the shapes and candy of your choice. Create a miniature winter wonderland with this easy homemade gingerbread house. Alternatively, you can Design Your Own Gingerbread House (pg. 16)! Learn how to make a gingerbread house with this fun tutorial that contains all sorts of gingerbread house hints and tips for every skill level. Each one of these three phenomenal projects includes a fantastic gingerbread house template and suggestions for transforming your gingerbread house into a gingerbread home. This section also includes a recipe for the Royal Icing Cement (pg. 27) that will serve as the mortar for all of your gingerbread construction projects.

This collection of gingerbread house candy ideas ranges from additions like chimneys and windows to gingerbread house embellishments that look like the Christmas decorations on your house! For example, pretzels make great decorations for your gingerbread house. Use chocolate dipped stick pretzels for lamp posts, columns or fenceposts, and use twisted pretzels dipped in sparkly sugar for outside decorations! This recipe is so simple and easy to make, and the kids will have so much fun creating them. No gingerbread house design should be complete without a recipe for Chocolate Dipped Pretzels (pg. 28), and you can add candy sprinkles or pieces of your favorite candies too!
Another great candy recipe in this cookbook is the one for Homemade Cinnamon Hard Candy (pg. 35). Making recipes with cinnamon will remind you of the holidays, and these hard candies put a fun twist on your usual Jolly Ranchers. On your gingerbread house design, this candy makes an excellent red brick chimney, an adorable sled, or a pretty front door. Make all six candy decoration recipes for the perfect decorative additions to your gingerbread house design.

If you don't have time to make a full Gingerbread castle, try one of these adorable gingerbread craft ideas! A Gingerbread Birdhouse (pg. 7) is the perfect home accent piece for the holiday enthusiast who has everything; with snow texture and festive green and red colors, even the birds can be home for the holidays in this charming hand-painted gingerbread-style birdhouse.
If you're giving any gift cards this holiday season, you'll want to wrap them up in a creative and special way, and the Gingerbread Gift Card Holder (pg. 40) will charm the Grinch out of any grouch. Don't forget to Spice Up Your Christmas Tree (pg. 50) with two different types of Gingerbread Ornaments (pg. 48). One is made of polymer modeling clay, while the other is made from styrofoam!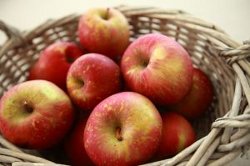 After all this gingerbread excitement, you'll be craving gingerbread recipes like mad! Continue decorating with Gingerbread Cut Out Cookies for Christmas (pg. 52), that are festive, tasty and so much fun for the young and the young at heart! For the more subdued crowd, let them indulge with Apple and Ginger Crumble (pg. 58), a delicious dessert that requires no effort and no baking skill. Throw everything into your slow cooker and a few hours later you will have a warm, gooey dessert perfect with ice cream.
With all of the recipes and Christmas craft projects contained in this gingerbread house eBook, you will have no trouble creating a sweet treat and an even sweeter mood for your Christmas ensemble. A gingerbread house is something the whole family can help with; the kids will love adding candy decorations, embellishments and more! More professional crafters can use this guide to test their limits by constructing anything out of gingerbread, including a massive gingerbread mansion. If you know someone who loves gingerbread, this eBook is perfect for creating easy homemade ornaments and gifts for all of the people on your list. The guide is a helpful as you need it to be, but it also lets your creativity run wild! In addition, this eBook is also an eCookbook, featuring delicious Christmas dessert recipes from RecipeLion.com that incorporate the scents and flavors of a spiced gingerbread cookies. You can make residents for your gingerbread house, warm and delicious crisps, or candy for decorating your house! Run, run as fast as you can to pick up supplies for all of the fantastic craft designs and recipes in this amazing Christmas eBook!
This collaborative eCookbook and craft guide will help you design and create the perfect gingerbread house, complete with homemade candy decorations and gingerbread craft ideas for gifts, home décor and more! Whether you prefer to flaunt your creativity by creating a unique and elaborate mansion, or you prefer to snack on gingerbread cookies, 23 Gingerbread House Designs and Recipes will help you experience that special Christmas spirit.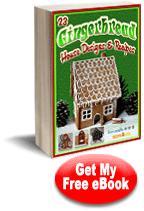 Download 23 Gingerbread House Designs and Recipes today!
Your Recently Viewed Projects
Join our community of 5 million crafters!
Get free craft projects, exclusive partner offers, and more.
Thank You for Signing Up!
There was an issue signing you up. Please check your email address, and try again.