Chamomile Brown Sugar Scrub Cubes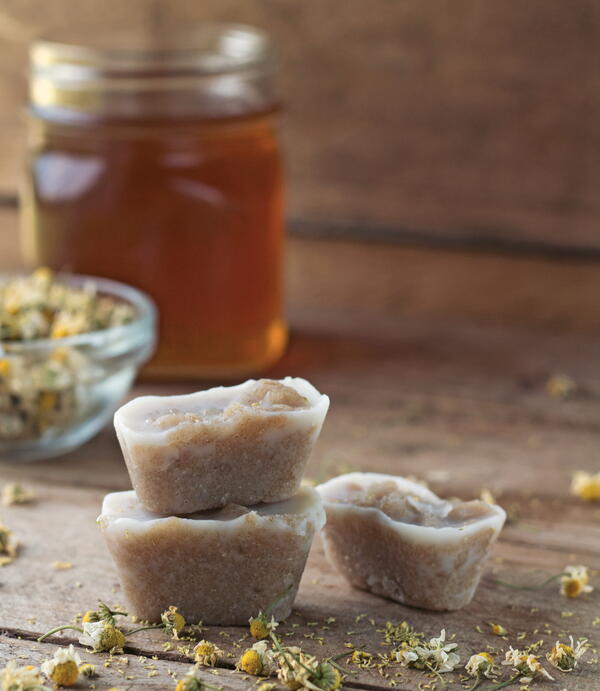 Chamomile Brown Sugar Scrub Cubes
These scrub cubes feature brown sugar, which acts as a gentle exfoliant to polish away dull, flaky skin. Chamomile was selected for this recipe because it helps calm and soothe most skin types. Coconut oil is an excellent antimicrobial and moisturizer, but if you happen to be allergic to it, you can replace it with another oil, such as sunflower, olive or sweet almond. Honey always makes a great addition to skin care recipes because it leaves your skin feeling wonderfully rejuvenated after it's washed off. Creamy cocoa butter binds all of these ingredients together in a convenient and easy-to-use cube form that will leave your skin feeling smooth and silky.

YIELD: 5 SCRUB CUBES
Materials List
2 tbsp (28 g) cocoa butter
1 ½ tbsp (15 g) chamomile-infused coconut oil (see page 17 for how to infuse oil)
½ tbsp (7 ml) raw honey
¼ cup (56 g) brown sugar
INSTRUCTIONS
Place the cocoa butter and chamomile-infused coconut oil in a heatproof jar or, for easy cleanup, an empty unlined soup can. Place the jar or can into a saucepan containing a few inches (7 cm) of water. Set the pan over a medium-low burner until the cocoa butter is melted.

Remove from heat and stir in the honey and brown sugar. Scoop the mixture into the sections of an ice cube tray, then place in the freezer until solid. Remove from the mold.

During summer and in warm climates, store the scrub cubes in a cool place or even your refrigerator to prevent melting.

Use 1 to 2 cubes during your shower or bath on dry, rough areas of skin that need exfoliating. These are especially effective on feet to help them get summer-sandal ready. Scrubs should generally be used only once every week or two, but if using on tough areas such as your feet, you can use them more often until you reach a level of smoothness you're happy with. Be careful as you exit the tub after using a scrub cube, since the cocoa butter and coconut oil can make the floor slippery.
Your Recently Viewed Projects