Art Institute Glitter, Inc.
Over 400 artist-cosmetologist quality glitter colors and glitter adhesives for all projects!
Website: http://www.artglitter.com
About Art Institute Glitter and History: For 20 years, founder of Art Glitter, Barbara Trombley created her own Christmas cards, each year in a different medium. In 1982, she used chunky, metallic glitter and school glue from the dime store on the card. The response was overwhelming, and a friend even commissioned her to make 50 glittered invitations for a New Year's party. It took two years of research to develop Ultra-Fine Art Glitter and her Designer & Fabric Dries Clear Adhesives. These were used to create Northern Lights Cards, the first handmade all-glitter, all-occasion greeting card line in 1984. The business grew from Barbara making just a few cards a day to a company of seven women producing 1,500-2,000 cards a day and shipping worldwide.

After numerous requests, Barbara decided she would market her supplies to stampers and crafters. They wanted to learn "The Art of Glittering" so that they could use the same techniques to create unique and sparkling cards. After developing her own glitter colors, industrial-strength adhesives, and metal writing tips that are a part of The Art Glittering System, she became known as the "Glitter Queen."

Ms. Trombley opened Art Institute Glitter, Inc. in 1982 and now supplies artists and artisans, crafters and craftsmen with more than 400 brilliant cosmetic quality glitter colors and industrial-strength adhesives. Art Glitter products have been featured on "The New Martha Stewart Show", "Carol Duvall Show", HGTV, Home Shopping Network and several times in "Martha Stewart Living Magazine" including this upcoming December, 2009 issue. Thousands of retail stores throughout the world carry Art Glitter products. Barbara's first book, "Glitter Artistry: Bags, Tags & Cards," was warmly received by artists in 2006 and is still a big hit today (Sterling Publishing, Inc.). Art Glitter's retail showroom is located in Historic Old Town Cottonwood, Arizona.
About Art Institute Glitter's Products: You may be thinking, why use glitter? Isn't that a child's craft decoration? That may be the of the past, but today it is used in fine art, sophisticated crafting, the fabric industry, cosmetics, automotive, home decor, and nail products. Today it is applied to quilts, scrapbooks, polymer clay jewelry, silk flowers, costumes, decorations, cards, candles, soap, wrapping paper, fairies, and dolls. The list goes on and on! From beginning to end, glitter adds excitement and adventure to everyday objects. Glitter is instant creativity, instant beauty, and instant gratification. You can get as intricate or as simple as you want by giving your project an extra zing.

Art Glitter is the largest manufacturer of artist quality glitter colors in the world with over 400 colors to choose from! We have an excellent on-line gallery, projects, blog and first-rate customer service. Products include: Ultrafine and Microfine Polyester Glitter, Vintage Glass Glitter, Fantasy Film and Fiber, Glass Beads, Gala Glitz, Faux Snow, and Elements. Our industrial strength adhesives include: Designer Dries Clear Adhesive, Fabric Dries Clear Adhesive, 3-D Embossit, Leafing Adhesive as well as glitter related tools and accessories like our Ultrafine Metal Tip for precision adhesive application. We also carry stamps by Barbara, Sticky Paper, Transparency Sheets and Double Sided Sticky Tape. Join with us and help sparkle our world today!


Product Images: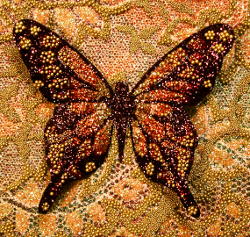 Where to Purchase Art Glitter Products: Art Glitter products are in several small craft, quilt and beauty supply shops all across the United States and Internationally too. Visit our Store Locator found here: http://www.artglitter.com/storelocator.htm. If you can not find our products near you, please shop our on-line store here: http://www.artglitter.com/rshopping.htm.
Links for Art Glitter:
Online Gallery: http://www.artglitter.com/gallery.htm
Techniques and Tips: http://www.artglitter.com/techni.htm
Learning Center: http://www.artglitter.com/learning.htm
Archived Projects: http://www.artglitter.com/projofthemoarchived.htm
Blog: http://artglitterblog.blogspot.com/
About Us: http://www.artglitter.com/about.htm
Wholesale Requests: http://www.artglitter.com/wholesale.htm
Contact Information: Please call us with any questions! We have real people answering the phones during regular business hours. We can help you pick out colors and design projects. If we're not here, leave a message and we'll return your call:
Toll Free in the continental U.S. 877-909-0805 or 928-639-0805
Fax: 928-639-4699
Emails will be answered in a timely manner: info@artglitter.com
Mail to: Art Glitter, 720 N. Balboa Street, Cottonwood, AZ 86326



Media and Press:


GLITTER QUEEN' SHARES ALLURE OF GLITTER IN NEW BOOK


ART GLITTER GOES TO WASHINGTON D.C.


THE NEW MARTHA STEWART SHOW, ART GLITTER & DECEMBER CRAFTS JOIN FORCES AGAIN!


EXCITING NEW ART MEDIUM PRESENTED BY BARBARA TROMBLEY

To view all of Art Glitter's designers visit our Guest Designer Page: http://www.artglitter.com/guestdesigners.html
There you will find our growing list of designers, we have three talented individuals for three months at a time. See their biographies, links to their Art Glitter projects and see how you could become an Art Glitter Guest Designer too!


Something worth saving?
SAVE all your favorite crafts
ADD personal notes
QUICKLY reference your crafts
Sponsored Content