Kreinik

This family-owned thread company has been producing craft and needlework threads - primarily metallic and silk threads - in their West Virginia factory since 1971.

Table of Contents
Kreinik Projects at FaveCrafts
Where to Purchase Kreinik Craft Products
About Kreinik
Kreinik is a family-owned business that started in Jerry and Estelle Kreinik's home in the early 1970s. Estelle was a needleworker, who basically wanted access to more interesting threads. So they started researching, buying, then making them. Today Kreinik is owned by Jerry and Estelle's son, Douglas. The company makes a variety of silk and metallic threads for hand and machine embroidery, for needleworkers, crafters, scrapbookers, quilters, fiber artists, fly fishermen—even international fashion houses—to express their creative selves. The manufacturing facility in Parkersburg, West Virginia is always buzzing with the production of braids, ribbons, filaments, and cords. At any given moment, shelves are stocked with cones of fibers so colorful it feels like you've stepped over the rainbow.
Over the 30 years that Kreinik has been in business, the company has stayed involved with charities in the community, and with people and companies in the crafts and creative industries. Kreinik staff has served on many industry boards, taught hundreds of classes, appeared on numerous television shows, and spun thousands of spools of thread. A creative staff of production, customer service, sales and design experts are on hand to help customers all over the world. Kreinik believes that stitchers, crafters, and professional artists want interesting threads that are made well so that they are easy to use, and come in a variety of colors and textures to bring projects to life.
Kreinik Projects at FaveCrafts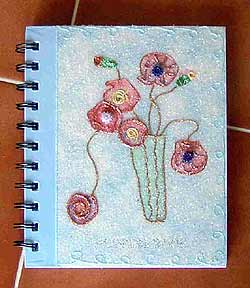 About Kreinik Products
Kreinik offers 200 colors of metallic threads in Kreinik Blending Filament, 6 sizes (widths) of Braids, two sizes of Ribbons, numerous couching threads (thicker threads), and also fusible (iron-on) metallic threads. Colors include pastels, jewel tones, metal shades, glow-in-the-dark, holographic, vintage, and corded colors. These threads are used in cross stitch, needlepoint, crazy quilting, quilting, tatting, fly fishing, crafts, card making, jewelry making, bead crochet, bead knitting, punchneedle, felting, wearable art, blackwork, Hardanger, surface embroidery, sewing embellishments and more. They are hand and machine washable and dry cleanable.
The Kreinik silk thread line includes three kinds of 100% pure silk threads: Silk Mori, Silk Serica, and Silk Bella, in 200 colors. Use silk thread for crazy quilting, cross stitch, needlepoint, Hardanger, bead crochet, bead knitting, jewelry making, punchneedle, and other hand embroidery techniques. Silk Bella is beautiful in machine embroidery for heirloom projects and wedding gowns.
Kreinik also sells needlework tools and embellishments like Treasure Tape, Diamond Beadlets, Tokens & Trifles sewing cards, 3/8" Trim, needles, scissors, the Custom Corder, plus needlework kits.
Where to Purchase Kreinik Products
Kreinik threads are available in needlework, quilting, and craft stores. An international and USA store locator can be found at http://www.kreinik.com/locator.
Videos
http://www.YouTube.com/kreinikchannel
Links
http://www.kreinik.com contains an education section, link to shopping, store locator, free newsletter, freebie section with project ideas, and thread color charts.
Twitter for Breaking Thread News
Contact Info
Kreinik Mfg. Co., Inc.
PO Box 1966, Parkersburg WV 26102 USA
Consumer Info: 1-800-537-2166 or 304-422-8900
Web site: www.kreinik.com
Email: info@kreinik.com
Media contact:
Dena Lenham
Creative Director, Magazine and Designer Contact
Kreinik Mfg. Co., Inc.
Phone: 1-800-354-4255 or 304-728-7889
Address: PO Box 219, Halltown WV 25423 USA
Email: dlenham@kreinik.com

We make thread! Visit http://www.kreinik.com for more info.
Twitter: http://www.twitter.com/kreinikgirl
Flickr: http://www.flickr.com/photos/kreinikgirl/
Facebook: http://www.facebook.com/Kreinik.Manufacturing.Company
YouTube: http://www.youtube.com/kreinikchannel
Project of the Day
An easy crochet pattern from Bernat Yarns is this tote bag for beginners. Bernat Softee Chunky yarn is used for a nice solid bag. The… See more

Something worth saving?
SAVE all your favorite crafts
ADD personal notes
QUICKLY reference your crafts