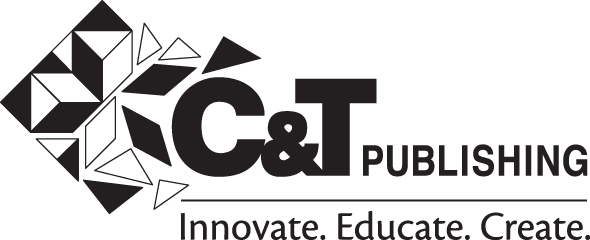 Leading the way to self-expression through the timeless art of handcrafting, C&T Publishing inspires crafters to use its products to create beauty every day.
Table of Contents
About C&T Publishing
Since its founding in 1983, C&T Publishing has become the industry leader for providing exceptional books and products to the quilting, paper craft, and fiber art markets throughout the United States and internationally. Consumers purchase our products through quilt, fabric, and craft stores; book, gift and museum shops; scrapbook and paper craft stores; and book clubs.
CEO Todd Hensley, CFO Tony Hensley, publisher Amy Marson, and an enthusiastic staff, strive to identify emerging trends and new craft markets in order to provide the discerning consumer with access to cutting edge products and tools.
"We are dedicated to providing beautiful books and gifts that inspire creativity in quiltmakers and craftspeople, from beginners to master artisans," says Todd Hensley. "We meet this challenge by consistently offering the finest-quality publications available from today's top quilt designers, fiber artists, and paper crafters."

About C&T Craft Products
C&T Publishing is a one-stop-shop for all your crafting needs. We offer books and products to assist you with your Quiltmaking, Sewing, Fiber Arts, Mixed Media, Needle Arts, and Papercraft projects. Be sure to check out our line of instructional DVDs, Online Products, Fabric Paints, Quilters' Gifts, Tools, Notions and Interfacings.
Where to Purchase Products
Quilt Shops, Craft and Fabric Stores, Book stores, Amazon, www.ctpub.com
Images
Links
http://www.flickr.com/photos/ctpublishing
http://twitter.com/ctpublishing
http://www.facebook.com/ilovequilts
http://www.youtube.com/user/CandTPublishing

Press
"C&T Publishing Card Keeper." Staff Pick. scrapbooks etc. January 2009. [pdf]
"C&T Goes Green." Quilters Newsletter. December/January 2009. [pdf]
"A Dozen Pretty Little Things." Altered Arts. November/December 2008. [pdf]
Contact Info
C&T Publishing is open Monday through Friday, 8:00 am to 5:00 pm, Pacific Standard Time.

EMAIL: ctinfo@ctpub.com

ADDRESS:C&T Publishing, Inc.1651 Challenge Drive, Concord, CA 94520-5206

PHONE:(800) 284-1114 toll-free in U.S. • (925) 677-0377 International • Fax (925) 677-0373