"14 Free Crochet Patterns for Babies & Toddlers" eBook
By: Karisa Tell, Editor for FaveCrafts.com
Free Crochet Patterns with FaveCrafts.com: 14 Free Crochet Patterns for Babies & Toddlers eBook
New babies are the perfect excuse to crochet! Stitch something up for a baby shower, a gift for the baby's arrival, a Mother's Day gift, or the child's first birthday. A great thing about free crochet patterns for babies is that they're smaller than adult patterns, so they work up quickly. This means you can easily make several of these patterns in the time it would take you to make a single larger pattern. Crochet baby clothes never go out of style, so when the intended recipient grows out of your creation, it can be passed down to the next generation. Handmade baby gifts such as crochet baby blankets and crochet baby booties can easily become family heirlooms, especially if you create them with care and attention to detail and quality. With this free eBook, you'll have access to 14 free crochet patterns for babies and toddlers, everything from bibs and booties to baby blankets and sweaters. New babies need a lot of things when they first come into the world, so give their wardrobe a head start by making them some of the adorable patterns in this eBook! And babies need more than a new wardrobe. Sure, sweaters, jackets, and cute dresses are great, but babies also need booties, bibs, blankets, toys, and bath accessories. This book has crochet patterns for all of the above! This eBook will become a great resource for crocheters. You can save it to your desktop, pin it on Pinterest, bookmark it in your browser, or even print it out and save a hard copy in your home. However you choose to save it, you'll be able to return again and again, every time you need a new crochet pattern for babies.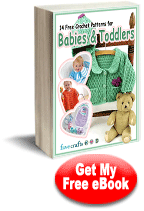 Download your copy of 14 Free Crochet Patterns for Babies & Toddlers today.
Crochet Baby Clothes: Eco Baby Set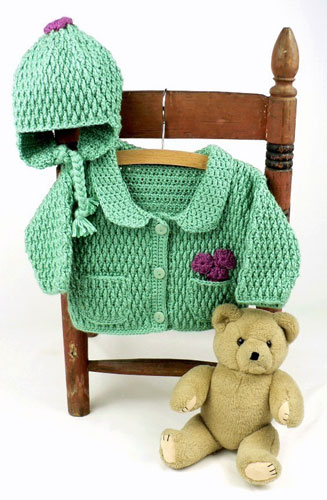 The first section of this free eBook contains crochet baby clothes patterns, including the adorable Eco Baby Set. This set contains a tiny jacket complete with collar, pockets, and buttons, plus a matching earflap hat with flower embellishments. This set is a great pattern for the experienced crocheter to pull out all the stops and show of his or her crochet prowess. It's also a great pattern for practicing new crochet skills, because it includes lots of techniques that you can use in your other crochet endeavors. Learn how to crochet the pockets on this jacket, and you'll know how to crochet pockets on an adult sweater too. Make the flower embellishments that decorate this cardigan and hat, and you'll be able to make all sorts of crochet flower embellishments for your own sweaters and hats, or use them for other things like shoe clips, handmade cards, scrapbook pages, hair accessories, and more. If this pattern looks too daunting, you can still crochet for baby using the other free baby crochet patterns in this chapter. If you've got a toddler or young child to crochet for, we've also got a nice selection of toddler crochet patterns inside this free eBook. We've also included a crochet sailor suit pattern, which just might be the cutest crochet pattern we've ever seen. Of course we had to include it in the eBook, since it's one of our favorites! A new baby or toddler would look so adorable dolled up in a sailor suit for a portrait session. Just think how happy you'd be to have your handmade design included and memorialized in family photos that will follow the child throughout its life! Baby crochet patterns are more than just instructions on how to make various items for babies; they are blueprints for creating handmade memories and love.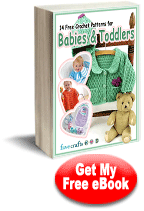 Download your copy of 14 Free Crochet Patterns for Babies & Toddlers today.
Free Crochet Baby Blanket Patterns: Natural Baby Blanket
Learn how to crochet a baby blanket with the patterns included in this free eBook. We've created an entire chapter on crochet patterns for baby blankets, including this lacy Natural Baby Blanket, which uses an Aran design and eco-friendly yarn. If this style isn't your cup of tea, you're sure to love one of the other baby afghan crochet patterns inside this eBook. Afghans are essentially even more useful for a new baby than clothes, because the baby can use it every night instead of once per wash cycle, and a child is not going to grow too large for a baby afghan for many, many years. Baby crochet afghans often become comfort objects for babies and children; who knows? Maybe the afghan you make using one of these free crochet baby blanket patterns will become the child's security blanket that he or she will take everywhere! Crochet baby blanket patterns can be as simple or as complex as you'd like, and we've included a nice mix inside this eBook. There's no better gift you can make than a baby blanket. Crochet one for a special baby or toddler in your life. Another benefit to making an afghan is that it's generally easier and quicker than making baby clothing. You don't have to make sure it fits a baby's body correctly, and since the finished object is 2D, the stitching and instructions are a lot simpler. Afghans are made from rows of similar stitches, usually in a repetitive pattern to give the finished product a consistent look. This means you can easily grab your yarn ball and hook and make these free crochet baby blanket patterns in front of the television or while chatting with your friends and family. Crochet afghans are also perfect for long road trips in the car (assuming you're not the one driving, of course!).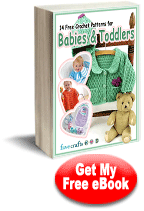 Download your copy of 14 Free Crochet Patterns for Babies & Toddlers today.
More Free Crochet Patterns for Babies: Accessories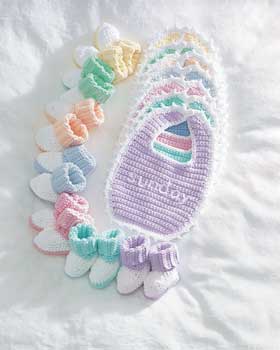 Babies need more than just blankets and clothes. There are tons of other things they need on a daily basis, from bibs bath toys to socks and booties. We've got patterns for all of the above! These baby accessories are quick and easy to make, and you could definitely make several of these patterns to create a handmade gift basket for a new baby. Crochet baby shoes and crochet baby bibs are great for new mothers to have a large supply of. Shoes and bibs get dirty easily, especially when used for a baby! New moms will want to keep several on hand so she can easily change them out when they get messy and dirty. The Days of the Week Bibs and Booties set provide new moms with a different bib and matching pair of booties for every day of the week. If you make these crochet baby patterns, her baby can wear a new bib and pair of booties every day of the week, and then she can wash them all at once, at the end of the week. New moms will appreciate not having to run laundry more often than necessary! Once you make your way through the rest of the book, if you're still looking for even more baby crochet patterns, be sure to check out this chapter for miscellaneous crochet baby accessories you might not have thought of before.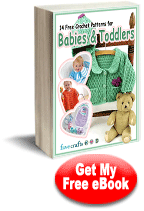 Download your copy of 14 Free Crochet Patterns for Babies & Toddlers today.
With your free copy of 14 Free Crochet Patterns for Babies & Toddlers eBook you can also subscribe to our Quick and Crafty newsletter to become part of a helpful and friendly crafting community. In subscribing to the newsletter you will receive:
Six weekly emails with free craft projects, tips, collection pages, videos and more
Chances to win craft books and products from our weekly giveaways and contests
New FREE patterns made available to you throughout the year
Access to our free project library full of over 7,000 more free craft projects
The opportunity to share ideas and help others in the crafting community
All of these great baby crochet patterns can be yours, absolutely free, from the baby clothes and accessories to the afghan patterns. All you have to do is click to download the eBook, and you can save it to your computer, print it out, or just bookmark the page and return as often as you like! These patterns will keep you busy for months, and we think you'll enjoy trying out more than just one! Free crochet patterns for babies are easy to make, hold tremendous sentimental value, and are useful for new moms. Use one (or several!) of these patterns to stitch up a handmade gift that will be appreciated for years to come. Download it today to check out all 14 patterns and see which one is your favorite!
Tags / Related Topics
Your Recently Viewed Projects
Images from other crafters

Love these projects? Get MORE delivered to your Inbox – FREE Click Here!

Report Inappropriate Comment
Are you sure you would like to report this comment? It will be flagged for our moderators to take action.
Thank you for taking the time to improve the content on our site.