Print This Post
DIY earrings are one of these easiest ways to add homemade jewelry into your wardrobe. Sometimes though, it is hard to know where to begin! Well earring fans, you are in luck! We have a new collection for you of 10 DIY Earrings: Chain Earrings, Metal Earrings, Wire Earrings, and More. This free eBook features fabulous projects, from easy drop earrings to simple wire earring patterns. There are a ton of gorgeous DIY earring ideas within this collection, so go wild creating putting your personal touches on these projects. There's so much to learn from these easy step-by-step tutorials, but the best part is when you're done you'll have ten brand new pairs of earrings!
Chain Earrings
With these projects, you'll have earrings that are perfect for dressing up any outfit that you're wearing. These Chain Cage Pearl Earrings will give you a stylish, but budget-friendly look. They are versatile enough to wear to the office, or for a night out on the town. You don't even need to worry about the chains tangling, since having them all interweave is part of the beauty of this pair of DIY earrings. Find even more chain earrings in this collection!
Metal Earrings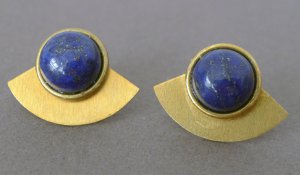 There's something to be said for keeping it simple. These metal earrings do just that. If you want a quick, easy-to-follow tutorial for how to make gemstone earrings like these Egyptian Gemstone Earrings, this free eBook is for you. Find more metal earrings like these, and start crafting these fabulous jewelry pieces today!
Wire Earrings
These Enchanting Blue-Eyed Drop Earrings are sophisticated and elegant earrings that would be perfect for making and giving as gifts to your friends and family. Find these and other simple, yet stylish wire earring tutorials in this eBook, and craft delightful DIY earrings.
Find these earring patterns and more in 10 DIY Earrings: Chain Earrings, Metal Earrings, Wire Earrings, and More, and be sure to check out AllFreeJewelryMaking.com for the latest trendy DIY earring projects!
Which type of DIY earrings do you want to make?
AllFreeJewelryMaking is dedicated to the best free jewelry making projects, tutorials, tips and articles. From easy-to-put-together projects, to more complex stitching patterns, we find and deliver the best free jewelry making patterns from all over the web. Plus, we feature free product reviews and giveaways of all the latest and greatest products including bracelet kits, findings, jewelry making books, and more. AllFreeJewelryMaking is a wonderful online resource for jewelry makers of all skill levels.
Latest posts by AllFreeJewelryMaking (see all)
Print This Post