They say fashion repeats itself, and that has never been more true than today. Vintage style is all the rage, and modern day fashionistas are borrowing from any and every era, fom the Roaring '20s to the psychedelic '60s. But vintage items can be expensive, as any antique-shop-frequenting fashionista will tell you, and not all of us have an attic full of grandma's old duds to pull from. Well lucky for the vintage-loving fashion maven of today, there are plenty of DIY projects to help you imitate the hot looks of yesteryear, especially when it comes to DIY jewelry. Check out these vintage-inspired free jewelry patterns and create instant "antiques" without the wait!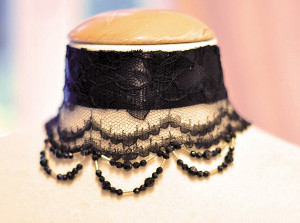 Fans of Downton Abbey will go head over heels for this refined necklace design. Inspired by the high necklines of the era, this Downton Abbey Lace Choker is an accessory fit for the most elegant aristocrat. Bring a bit of the Downton drama into your wardrobe with this stunning necklace pattern.
If there's one jewelry statement that has stood the the test of time, it's pearls. That's why I love these DIY Vintage-Inspired Pearl Earrings from Delightfully DIY. They're classic, sophisticated, and can never look outdated. Every girl needs some classic pearl jewelry in her collection; why not make your own with this tutorial?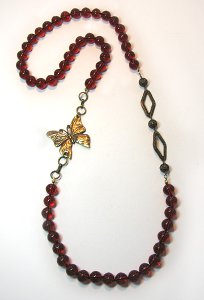 You'll be ready to rock the jazz club with this '20s-inspired Art Deco Flapper Necklace. The "roaring" red strand of glass beads combined with the deco-style charms make this the essential accessory for any "new woman." Pair this piece with a fringe dress and a feather headband (or a Royal Blue Flapper Hair Clip), and you'll be good to go!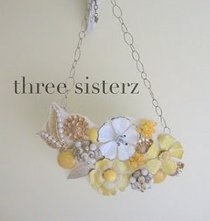 This one's for you thrift shop junkies. Put those retro brooches and pins you've been collecting to good use with this Recycled Brooch Bib Necklace. You can easily pick up a whole slew of these on the cheap at your local second-hand shop and then transform them into this fashion-forward statement necklace.

Who would have thought that old doily on your grandmother's end table could become gorgeous vintage-inspired jewelry? Rebekah Murray of Pretty Things did, which is why she created this jaw-droppingly gorgeous Vintage Doily Necklace tutorial. This piece is a perfect marriage of old and new, bringing that antique vibe into the contemporary fashion world.
Still feeling nostalgic? Do some more DIY time traveling with these vintage-inspired jewelry designs:
Find even more DIY jewelry tutorials and inspiration, both modern and vintage, at AllFreeJewelryMaking.com!
So, which is your favorite fashion era?
Latest posts by AllFreeJewelryMaking
(see all)