Print This Post
Has your child's school restricted what kinds of gifts and treats kids can bring to class? Whether your kids like it or not, a candy-less Valentine's Day might be headed your way… but that's no reason to fall out of love with the season of love! AllFreeKidsCrafts always believes that crafting is a great way to express the way you feel, and that's especially true around Valentine's Day. With our latest crafty collection of valentine ideas, you'll be completely charmed by Valentine's Day all over again.
Valentine's Day doesn't always get quite as much fanfare as other holidays, but we think these festive Valentine's Day crafts for kids might change that. The
Valentine's Day Crafts for Kids: 9 Valentine's Day Ideas You'll Love
free eBook is more than the perfect resource for kids to craft gifts for friends, teachers, and relatives. Kids will discover delightful new ways to celebrate Valentine's Day, and families will find entertaining activities for spending time together.
Homemade Valentine Cards, DIY Jewelry, and more
Have you been struck by Cupid's arrow of curiosity? Here's a preview of the crafts inside Valentine's Day Crafts for Kids: 9 Valentine's Day Ideas You'll Love: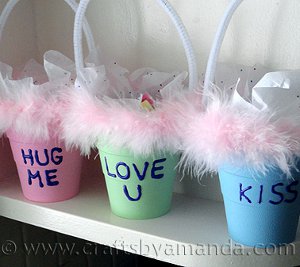 If you can't bring candy for your classmates, you can still whip up something sweet to give as a gift! Conversation Heart Treat Baskets look like the real deal, but you can throw in any sort of trinkets for your friends. Valentine's Day crafts for these are so creative and fun, and there are plenty more to discover in this delightful eBook.
One of the most heartwarming aspects of the Valentine's Day Crafts for Kids: 9 Valentine's Day Ideas You'll Love eBook is the sentimental homemade cards kids can make. Sure, it might be easier to buy a card or valentine from the store, but making something that came from your heart is a much more sincere way to show someone you love them.
Want to know the best thing about these cute Valentine's Day craft ideas? No matter if you have tons of time or only a little, we've gathered some kid-friendly crafts that work for any schedule. This collection of Valentine's Day craft ideas has a project that will help you make the most out of whatever family time you have.
You can find all of these Valentine's Day crafts for kids in our newest free eBook, Valentine's Day Crafts for Kids: 9 Valentine's Day Ideas You'll Love. Click here to download your copy, grab a few new ideas, and start celebrating the season of love with the people that matter most!
How did you celebrate Valentine's Day when you were a child?
AllFreeKidsCrafts.com is pleased to welcome parents and kids of every age to our collection of the most exciting kids' craft ideas from all over the web. For young minds, arts and crafts develop creativity, so AllFreeKidsCrafts is here to inspire their imaginations with activities and crafts for kids of every age. From nature crafts to make in your own back yard, to edible kids crafts in the kitchen, to crafts for kids who dream of adventure, we feature all sorts of kids crafts from the web's most innovative parents and craft designers.
Latest posts by AllFreeKidsCrafts (see all)
Print This Post