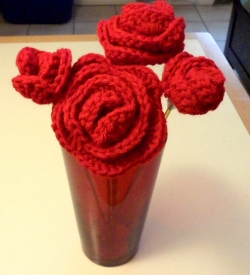 While any day is as good as the next when it comes to showing your love, the Hallmark holiday of Valentine's Day has designated February 14th as the most passionate 24 hours of the year. Use your words to express your love the other 364 days, but to make this day special, show you care with homemade gifts. To make a handcrafted present for Grandma that means a lot and really shows the extent of your
appreciation, it's going to take a bit of work. So, it's time to start crafting for the day of love, and AllFreeKidsCrafts has heaps of heartfelt ideas. These Valentine's crafts can be worked on throughout the course of a month, which means they will be completed just in time, and those ever-moving kids don't have to finish them all in one sitting.
One thing that I really love about Valentine's Day in my family is that my mom always made the day about family love, not only romantic love. She'd set up a treasure hunt for us every year, and at the end of the hunt we would find a present that showed us how much she cared. Make this true for your family too by crafting lovely gifts together for those about whom you care. Your kids will feel a definite sense of pride as they hand their dad a darling gift made with little hands of love.
Photo Crafts for Valentine's Day

Little is more meaningful than capturing a special moment and framing it. You're telling the recipient that they mean a lot to you, and that the event in the picture is something to be remembered. Giving pictures, though, can be boring if they're not housed with care. Use one of these creative photo crafts to show Grandpa just how much that fishing trip meant or to remind your sister about that awesome day at the park. I've been very into the photos of everyday items creating words. Spell out "I Love You" or "You Rock," and your dad will be amazed. Check out what I'm talking about with the Alphabet Photography Collage. It's really fun for kids to wander around with a camera and see what shapes and letters they can find.
Other Photo Crafts for Valentine's Day:
Clever Magazine Picture Frame
Dazzling White Button Frame
Father's Day Photo Box perfect for Valentine's Day!
Frugal Ombre Frame Teens!
Valentine's Day Crafts with Yarn

Impress each member of your family and your best friends with a hand-sewn, finger knitted, or crocheted gift that they'll love. These are the perfect crafts for older children or the little, expert sewists to make for Mom. Since so many mini crafters have picked up on finger knitting, my top pick for a Valentine's Day gift is the Finger Knitted Throw Pillow. It's really useful and very sophisticated-looking, but can be crafted by a child in elementary school. Grandma would love having a pillow on her couch made by you!
Other Valentine's Day Crafts with Yarn or String:
Easily Embroider Styrofoam
Spider-Man Throw Pillow
Red Valentine Roses Teens!
Cozy Valentine's Day Crafts

Cupid's Day is the perfect day for cuddling, so give your favorite snuggle buddies warm presents. Pick out a really fun fabric for a No-Sew Fleece Blanket for your big sister. She'll love the cozy gesture, and may just let you sleepover in her room. Mom would also adore a comfy gift that encourages her to relax. Then you can sit right next to her, watch a movie, and eat hot popcorn in the coziest of ways. The Comfy No-Sew Valentine Pillow uses the same technique as the blanket, and it will remind the recipients that you love them every time they rest their heads.
More Heartfelt Craft Ideas for Teenagers

Teens, get crafting! Below are some more great ideas for everyone you love.
Rose Wreath perfect for the family
52 Reasons I Love You Dad and Grandpa
Scrabble Crossword Grandma's favorite
Glass Vial Necklace give it to Mom
Pretty Poppies Pin great for friends
Bonus: Make the Drawsome Dry Erase Framed Gallery as a Valentine's Day gift for the kids. Your craft becomes an amazingly fun art project for the children.
Who do you and the kids give Valentine's Day presents to?
Latest posts by AllFreeKidsCrafts
(see all)