Our quilt block patterns category is one of the most popular on FaveQuilts; it's got hundreds of ways for quilters to start their next quilt pattern. Throughout the year, the editors on our site like to put a list together of the most popular designs and share them with our readers. This party is getting started with 6 of our best quilt block patterns.
Disappearing 16 Patch Block
One of the most consistent trends this year has been a love of all things nine patch, be it a regular block of nine squares or an impressive variation. Melissa from Happy Quilting made a beautiful diamond-like design that will create a whole new level of depth to a geometric throw.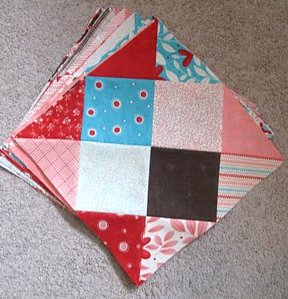 Stacks & Stacks of Scraps Quilt Block
If there's one thing we've learned from our bloggers, it's that you don't need to buy new fabric to make an amazing new quilt block. Stefanie from Little Lady Patchwork cleaned out her scrap drawer and used strip quilt piecing to make a design that's going to be unique every time. Mixed up fabrics have never looked so good together.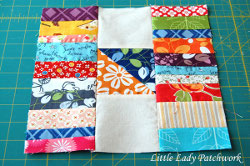 Star Flower Quilt Block
The magic of star quilt patterns has enchanted us in every form from accessories to full-sized lap quilts, so it's no mystery why star quilt block patterns like this one made by the ladies at Piece N Quilt made our list. The delicate floral fabrics have made this a top choice for spring quilts and quilts for girls.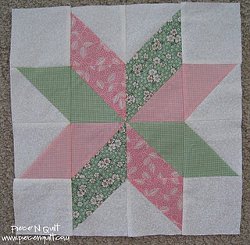 Easy Log Cabin Quilt Block
Classic quilt patterns are never bad to start with whether you're new to quilting, looking for a reliable way to show off some great new fabric, or simply find some inspiration to get started. There's no better option than the versatile log cabin quilt block such as the one made by Cassandra from Mighty Distractible.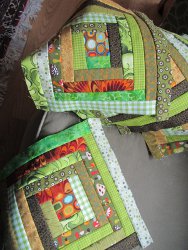 Feminine Pink and Green Quilt Block
Another traditional quilt pattern that found its way on our list was the square in a square quilt pattern, which made colorful quilt blocks like this one from Erin at Why Not Sew an excellent choice for quilts with any color scheme.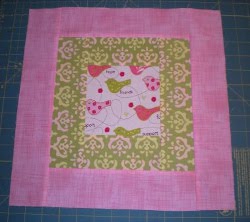 Swirling Dresden Block
Modern quilt blocks have also made an interesting impact recently. Vicki from Quilting Lodge had one of the most stunning examples of this, a bold variation of the classic look of Dresden plate patterns that's even more remarkable with the contrast between light and dark fabric.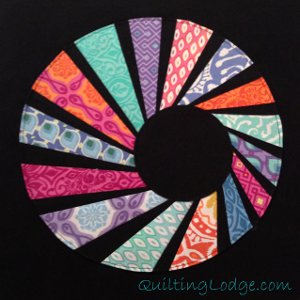 Are you still on the lookout for the next big quilt block pattern? You can just as easily design one yourself using the unique system included in Blocks, Borders, Quilts! A Mix-and-Match Workbook for Designing Your Own Quilts by Sunny Steinkuhler. Learn the secrets behind making a one-of-a-kind quilt block by entering to win your own copy. The contest ends on the 26th.
What's your favorite quilt block?
Latest posts by FaveQuilts
(see all)