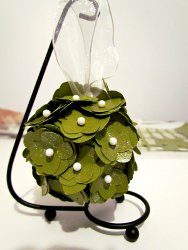 Let's face it: Christmas can be pricey. But with Christmas months away, this may not be on your mind. Why not save yourself the mid-December anxiety of Christmas crafting and start brainstorming thrifty ideas now?
After much thought I realized that one of the most available materials for crafting is paper. There is tons of paper everywhere. Whether you stock up on scrapbook prints or happen to save tons of flyers, that paper can be put to use on homemade Christmas decorations. This year, don't procrastinate, paper craft instead.
How to Make Paper Ornaments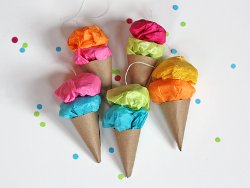 For many of you, making Christmas ornaments is a holiday tradition. There is an irksome side effect to it, though. Most of the time the supplies you buy make a mess. On top of this, there are usually annoying leftover paints and blank ornaments that you feel too guilty to toss. This can be easily avoided by making paper ornaments. These aren't just cut-outs of Santa; these are dimensional designs that you can make.
I've chosen ornaments that you can practice now without feeling overwhelmed by the Christmas spirit. This Flower Bustle Ornament differs from conventional ornaments with its spherical shape and floral features. This is certain to add some freshness to your tree. If you have a sweet tooth, you can also try your hand at these Easy Paper Ice Cream Ornaments. The subject of these hanging homemade decorations contrasts nicely to winter. Maybe it's a more traditional Christmas look you're after; these Sheet Paper Fan Christmas Ornaments from Yellow Bliss Road are a delightful decoration. You'll be singing praises over these DIY paper ornaments.
More Paper Crafts for Christmas
You may be done with ornaments for the time being. If so, there are other paper Christmas crafts that go beyond the norm and do it inexpensively. Again, I've chosen evergreen designs, so you have no excuse not to craft these gorgeous projects now!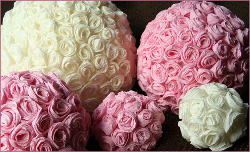 Handmade Crepe Paper Rose Centerpieces are stunning. Choose your desired color scheme when crafting these balls of beauty and get to work. If you don't craft these centerpieces because they are gorgeous, at least do it to provide a conversation piece during that Christmas family dinner. Every family reunion needs a conversational safe haven…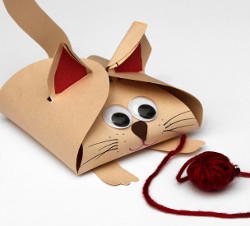 Instead of the same old wrapping this year, make DIY gift boxes like these Awesome Animal Boxes. Have you ever seen anything so outrageous? This box alone is enough of a gift; you might even get away with leaving it empty.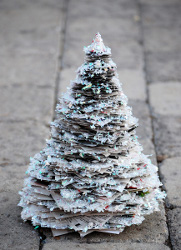 Newspapers are bound to pile up in your home or around you. Despite living in a digitized age, there is an everlasting charm about the printed word. You can use old newspapers to create a Glittery Newspaper Tree. Recycled crafts like this one retain a vintage charm thanks to the inky words.
Hopefully you feel inspired to go thrifty this year with recycled paper crafts. There are endless possibilities when it comes to paper Christmas crafts that will save you a bundle in cash. As each day brings you closer to Christmas, craft something nifty and thrifty. It won't cost you a cent; the designs are on us!
What's the weirdest paper craft you've ever made?
Latest posts by AllFreeChristmasCrafts
(see all)