Are you having Thanksgiving dinner this year? Plan the perfect holiday party this November with our latest free eBook! When you grab your free copy of our latest holiday eBook, 8 Thanksgiving Crafts for the Home  you'll find a collection of kids' crafts, decorating ideas, and turkey crafts perfect for the holiday.  From Thanksgiving party décor to fun and easy crafts for kids, this go-to holiday guide will show you how to plan the perfect bash without breaking your budget! Learn how to make turkey crafts that are so simple and fun, the kids will be sure to love them. No matter what type of activity you're sharing with your family, these fun Thanksgiving crafts will be an instant hit. You can add a rustic feel to your party with the nature-inspired decorating ideas included in 8 Thanksgiving Crafts for the Home. No matter what you need for your Thanksgiving party, this eBook will have you covered!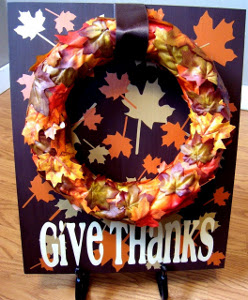 From table decorations to turkeys, these handmade Thanksgiving crafts will have your house looking seriously spectacular. With the help of our free, printable Halloween eBook, you'll be able to start on your Thanksgiving home décor without the stress of searching for ideas. Free up some of your spare time to start making Thanksgiving décor, it's a sure fire way to make your house the warmest one on the block. Ensure that your family feels warm and cozy this year and download your copy of 8 Thanksgiving Crafts for the Home. Decorate your table, door, and entertain the kids with one handy craft guide for the holiday!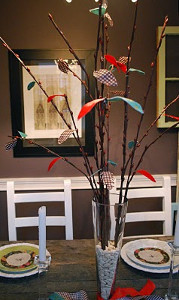 Grab your favorite ideas out of our free eBook, 8 Thanksgiving Crafts for the Home and get started on some of these holiday treats. These delightful and decorative ideas will set the mood of your holiday home. Whether you are searching for fun activities and crafts for the kids, handmade table decorations, or turkey crafts, the cute selection of Thanksgiving crafts included in this eBook will have something to complete your holiday. Plan the perfect Thanksgiving dinner yet with some of the cutest, and most clever, Thanksgiving crafts ideas that you can find. We're sure you won't regret making any one of these fun tutorials.
How do you plan to decorate for Thanksgiving this year?
Win a copy of Fa La La La Felt: 45 Handmade Holiday Decorations! The deadline to enter is November 19, 2013 at 11:59:59 p.m. Eastern Time. With your own copy of Fa La La La Felt: 45 Handmade Holiday Decorations, you'll be able to make all the handmade ornaments, stockings, and Christmas decor that your heart desires. You can enter once daily, so return often to improve your chances!
Latest posts by AllFreeHolidayCrafts
(see all)