There's something charming about monograms. Personalization is practical and comforting to people, whether they be newlyweds, homeowners, or little girls and boys. It's fun to see your name or initials on items you use daily, like a favorite coffee mug or pillow case. Plus, it's so easy to keep track of monogrammed accessories. At AllFreeChristmasCrafts, we're always looking for great gift ideas for the loved ones on your list. We have a nice collection of monogram crafts on our site, but there are tons of ideas out there. Check out a few of our favorites.
DIY Wedding Gifts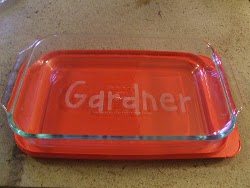 Spring and summer are the most popular seasons for weddings, and often those invitations come with a hefty price tag. If the items on the registry are out of your price range, or if you find yourself scrambling for gift ideas, consider making a monogrammed gift for the happy couple. You can tastefully display the first letter of the couple's surname on ceramics, such as these Personalized Mugs and Dishes. For a quirky and useful present, etch the couple's last name on the bottom of a casserole dish, and there will never be confusion over which dish belongs to whom at family dinners.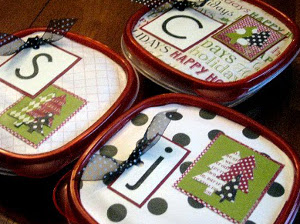 If you happen to be the bride-to-be, you can put together personalized treats for your bridesmaids or wedding guests. These Chalkboard Wine Glass Bottoms will delight your bridesmaids, plus they will give you an excuse to stop by for a glass of something sweet when you return from your honeymoon.
And what about those lovely folks who came to help you celebrate? Fill these Monogrammed Treat Containers with mints, chocolates, and other tiny treats for your guests. Family and friends will appreciate these favors, which double as mementos, long after the candy is gone.
Monogram Gifts for Women Who Wander
These traveler-friendly crafts are great for people who are always on the go. For instance, most travelers rely on caffeine to keep them energized, which is where this Personalized Travel Mug comes in. It's reusable, easy to clean, and has your name written all over it–literally! Another fabulous and inexpensive gift is this Personalized Lip Balm. Cute and convenient, you can wear your lip balm around your neck when you make this fun craft. It's especially great for scatterbrained people like yours truly. You can also make yourself or a loved one a personalized gift idea like this Monogram Sachet. Stow this darling craft in your suitcase so that every time you open it you'll catch a lovely scent. If you're traveling with a large group and storage space is limited, you can't beat this Travel Pillow Case. The monogram will prevent any packing or unpacking mix-ups. Even if you can't sleep in your own bed, your head will feel at home.
What type of crafts do you like to personalize?