Dress up for Halloween this year…and not just with a costume.
It's Halloween time again. It's the season of pumpkin spice lattes, scary movies, trick-or-treating, and orange-colored Oreos. There are so many things to love about Halloween. For all Halloween's scariness, not much about the holiday frightens me, except picking out a Halloween costume. I have so much trouble deciding on a costume, but I still want to be festive on Halloween day! Well, I found a solution for myself with these DIY pumpkin crafts.  Below, AllFreeJewelryMaking has complied a list of  10 wearable crafts that you (and I) can sport throughout the season.
Neat Pumpkin Homemade Necklaces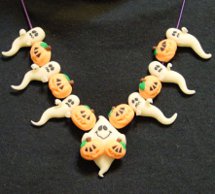 You won't miss out on the Halloween spirit with these homemade pumpkin necklaces. These wearable pumpkin crafts are a simple way to  add some festiveness to your outfit. Even if getting dressed up in a costume is not your cup of tea (or apple cider), this Happy Halloween Necklace still lets you delight in participating in the holiday. If bats are not your fancy, try this Pumpkin and Ghost Clay Necklace instead.
Beware: Awesome DIY Wearable Crafts
There are plenty of other pumpkin crafts you can use as accessories this holiday. I just love these Precious Pumpkin Beads! You could use them to make all sorts of DIY jewelry, such as necklace pendants, bracelet charms, DIY earrings, or even cute pumpkin pins. They are such a versatile pumpkin craft!
Here are some other wearable craft options:
Frightening Festive Earrings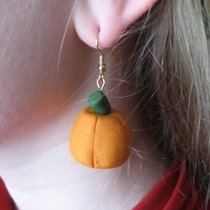 Not a fan of necklaces or bracelets? Not a problem. The easiest way to add pumpkin jewelry into your wardrobe is DIY earrings. There are so many great tutorials on how to make earrings for Halloween, but my favorite are these Cute as a Pumpkin Homemade Earrings.
Dare yourself to try these other DIY earrings:
And if you have a little pumpkin in your life….try out this adorable Baby Pumpkin Crochet Beanie from FaveCrafts!
Be sure to try out these festive, wearable pumpkin craft ideas this Halloween! If you are interested in more Halloween jewelry projects (maybe skeletons and witches are your favorites), check out AllFreeJewelryMaking for more ideas.
What is your favorite Halloween accessory?