I'm obsessed with Mad Men. It took a while for it to grow on me, but when it did, I marathon-watched the seasons day after day to get caught up. Like everyone else, I'm in love with all the fashions of the time; the pencil dresses and made-up hair and makeup on the women and the perfectly tailored suits and slicked back hair on the men so classy and glamorous.
With the first half of the seventh and final season airing in the spring of this year (the second half doesn't air until 2015 – if you can possibly wait that long), it's time to start getting excited for the beginning of the end of an era. We at AllFreeSewing have found some great 1960s vintage, Mad Men-inspired sewing patterns. Whether you're on the hunt for some great throw-back skirts and dresses or headbands and clutches, we have a pattern that will suit your needs. If the home decor of the time has inspired you, we've also included some great curtain and kitchen patterns for you.
For the Ladies
Ladies of the 1960s enjoyed both snug-fitting pencil dresses and skirts and flared out floor-length dresses. They would adorn their hair and hands with properly placed headbands and gloves to always look perfectly put together. Bring out your inner Joan, Peggy, or Betty with these vintage sewing patterns. There are even some patterns for the little Sally Draper in your life!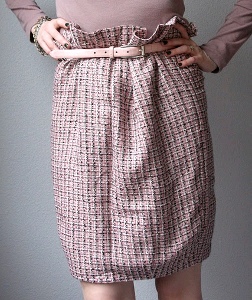 Bow Belt Tutorial
Elizabeth Taylor's Favorite Lace Skirt
Mulberry Style Paperbag Skirt
Polka Dot Skirt
The Perfect Peggy Skirt
Graceful Dress Pattern
Marilyn Pencil Skirt
Vintage Heirloom Dress
DIY Fancy Lace Clutch
For the 'Gents
Men, don a finely tailored suit and slick back your hair and you're good to go. The go-to style for men and boys is prim and polished suits and vests with neat ties.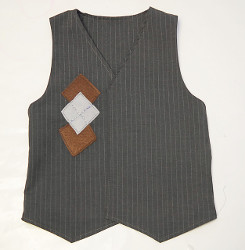 How to Sew a Single Placket
The New Yorker Boys' Peacoat
The Boy Vest
Handsome Rob Necktie
The Eddie Cap
The Man Cowl
DIY Accessories for the Home
Do you want to transform your kitchen to one of the '60s? These home decor choices have that perfect throw-back vintage feel that will do just the trick!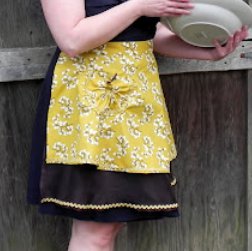 Betty Draper Inspired Hostess Apron
Mad Men Embroidered Kitchen Towel
Kitchen Curtains with Gingham Bows
Easy Ruffle Apron
Reversible Breakfast Tablecloth
Which character's style do YOU most envy?